Australia
Shaquille O'Neal backs Australian Indigenous vote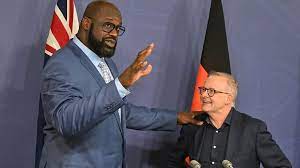 US basketball legend Shaquille O'Neal has voiced his support for the Indigenous cause in Australia.
Speaking at a news conference with Prime Minister Anthony Albanese, he said: "Whatever you need from me, just let me know."
Mr Albanese's centre-left government wants to hold a referendum to change the constitution and give Indigenous people a voice in parliament.
He promised it in his victory speech after winning May's elections.
Mr Albanese said the former professional basketballer, who is in Australia on a speaking tour, was well suited to drive public support for his government's bid to increase Indigenous voices to parliament.
In 2017, Australia's government rejected a proposal to form a body in parliament representing Indigenous peoples.
But Mr Albanese's leadership is pushing for more representation and it is trying to mobilise public support for the plan through sporting figures.
If approved, his government's "Indigenous Voice to Parliament" initiative would create a permanent Indigenous advisory body to the federal parliament.
Mr Albanese said: "We know that Mr O'Neal does a lot of work in the United States about social justice and lifting people up who are marginalised, including through sporting organisations."
He said his government wanted to build "the broadest possible support" and engage with individuals who could connect with young people and all sections of society.
"Shaq has that record," Mr Albanese added, praising him for bringing people together from different backgrounds and "recognising that Australian history didn't begin in 1788".
Indigenous Affairs Minister Linda Burney, who also spoke at the news conference, said O'Neal requested to be involved and described the mission for change as "a noble task".
The four-time NBA champion said: "I'm here in your country, whatever you need from me, just let me know.
"Appreciate you guys, and God bless you guys, and everyone knows Shaq loves Australia, alright? Alright, I'll see you soon."
Details on how the government intends to include more Indigenous voices in parliament will be disclosed after the national referendum takes place.
Read from: https://www.bbc.com/news/world-australia-62700244