Music
Eurovision 2022: Ireland's Brooke fails to qualify for the final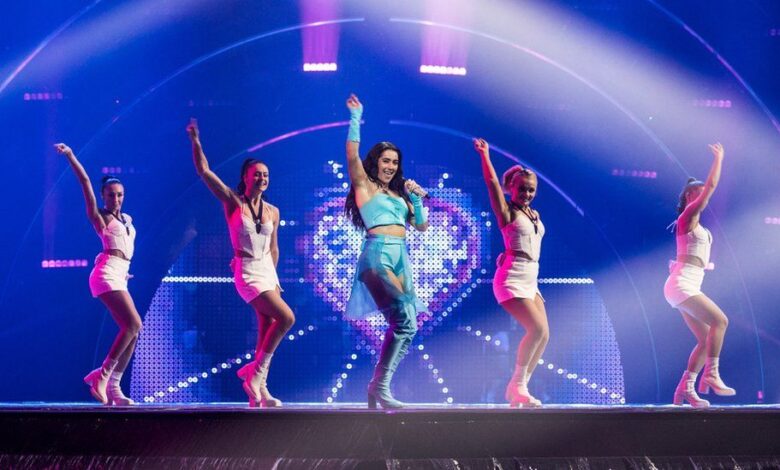 Ireland's Brooke Scullion has failed to qualify for the final of the Eurovision Song Contest.
The 23-year-old's elimination was a surprise to many Eurovision-watchers, after she received the warmest welcome of the night during Thursday's semi-final in Turin.
But her Eurovision dream has ended, as have Ireland's hopes of extending their lead as the country with the most wins.
"It didn't go our way," she said, "but we are so, so happy with what we did."
In an emotional Instagram post, she added: "Maybe it just wasn't for me, but maybe in the future bigger things are going to come,
"I couldn't have done any more, and I'm so happy."
Finland, Serbia and Sweden are among the acts who sailed through to Saturday's main event.
But they face stiff competition, with Ukraine's Kalush Orchestra the outright favourites to win, and the UK's Sam Ryder building a head of steam over the past week to become second favourite with bookmakers.
Thursday night's second semi-final, which was held in Turin's Pala Alpitour arena, was notably more dynamic and exciting than Tuesday's ballad-heavy first semi.
The two-hour show featured everything from flamenco dancing to a mechanical bull, with a smattering of country and western for good measure.
Eighteen acts performed, with the following 10 progressing to the final.
Belgium – Jérémie Makiese: Miss You
Czech Republic – We Are Domi: Lights Off
Azerbaijan – Nadir Rustamli: Fade To Black
Poland – Ochman: River
Finland – The Rasmus: Jezebel
Estonia – Stefan: Hope
Australia – Sheldon Riley: Not The Same
Sweden – Cornelia Jakobs: Hold Me Closer
Romania – WRS: Llámame
Serbia – Konstrakta: In corpore sano
Georgia, Cyprus, Israel, Malta, San Marino, North Macedonia and Montenegro were eliminated, after a combination of jury and public votes were counted.
The UK does not have to compete in the semi-finals as it is one of the "big five" countries who contribute the most money to the contest, alongside France, Spain, Germany and Italy.
However, Sam Ryder's song was introduced to the audience during Thursday's show via a clip recorded during rehearsals. Spain's Chanel and Germany's Malik Harris also got a brief chance to familiarise fans with their songs.
The semi-final opened with Finnish rock band The Rasmus – who had a handful of UK hits at the turn of the Millennium, including the top 10 single In The Shadows.
Frontman Lauri Ylönen made an instant impression, apparently recreating a scene from the horror movie It as they cued up their pop-rock anthem, Jezebel.
The song was co-written by US hitmaker, Desmond Child, whose catalogue includes Bon Jovi's Livin' On A Prayer and Alice Cooper's Poison – and while his style hasn't progressed significantly since then, the familiarity was enough to push The Rasmus across the line for Saturday's final.
An early highlight was Serbia's distinctly unsettling Konstrakta, who sat at a basin, washing her hands as she intoned: "What is the secret behind Meghan Markle's healthy hair? I think it is deep hydration."
Her song, which may or may not be a critique of Serbia's health system, has become a fan favourite in the arena despite (or perhaps because of) its oddness, meaning the singer will get to perform again on Saturday.
As with Tuesday's semi-final, the public seemed to turn against acts who were too frivolous or strange – ejecting Georgia's steampunk circus act Circus Mircus; and San Marino's Achille Lauro, who rode a pink velvet mechanical bull called Roberta while performing his song, Stripper.
Instead, voters seemed to favour the night's more dramatic numbers – notably Australia's Sheldon Riley, who poured his heart into his ballad of self-discovery Not The Same, while wearing a costume that weighed a spine-crushing 51kg.
Uptempo pop numbers also seemed to have fallen out of favour, with crowd-pleasers like Malta's Emma Muscat being left by the wayside.
Perhaps her life-affirming pop number I Am What I Am (not a cover of the Gloria Gaynor classic) split the pop vote with Ireland's thematically and musically-similar That's Rich, leaving both countries without a route to the final.
Eurovision fanatics Sweden were the sole pop winners, with Cornelia Jakobs' exquisitely-balanced vocal convincingly selling her crying-in-the-club tearjerker Hold Me Closer.
Estonian singer Stefan also progressed to the final by giving everyone a break from Eurodance and power ballads by donning a cowboy hat for the Western-inspired Hope, helping .
And there was a British link to one of the new finalists, We Are Domi, a Czech band who met while studying in Leeds six years ago.
While the votes were being counted, viewers were treated to a performance by Il Volo who represented Italy back in 2015, although singer Gianluca Ginoble could only join his bandmates on the video screens after testing positive for Covid.
Hosts Laura Pausini and Mika also teamed up for a tender cover of Sting's Fragile, as well as "People Have The Power" by Patti Smith.
The interval act for Saturday's final will be last year's winners Måneskin, who have gone on to score global success with songs like I Wanna Be Your Slave and Beggin'.