Sports
Gibson and Hooper say Waratahs will gain enormous confidence out of Crusaders win
NSW Waratahs say they will gain enormous confidence from a superb 20-12 win over the table-topping Crusaders, in which they believed they showed superior fight.
Michael Hoopers side registered their third and most important win of the season after tries to Jed Holloway, Cam Clark and Israel Folau snapped the Crusaders 19-game Super Rugby winning streak.
With upcoming matches against the Sunwolves and Blues before a bye, it is hard to quantify what the latest victory, in difficult conditions, will do for a group that has edged past the Melbourne Rebels at the top of the Australian conference.
"Our conference is incredibly tight and thats the significant thing," said Waratahs coach Gibson, a few hours before the Rebels attempted to return serve in South Africa against the Sharks.
Advertisement
"Its always nice, [Crusaders are] the benchmark team. It gives our team a lot of confidence we can compete with the best. Weve dropped a couple of close games but were in the fight and its pleasing.
"Its confidence building no doubt, particularly around those areas weve spoken about. We scrapped and youve got to against a team like that."
Hooper was thrilled with the result in a game the Waratahs led 15-7 at the break.
"Its a big confidence builder," he said. "Its taking that and feeling a lot of confidence and growing.
"Yeah, we had 42 per cent possession, but we knocked off a team that hasnt been beaten [in 19 games].
"Sometimes were not going to be running in tries from all over the field … tonight we built a win against a team that has so much variation in their attack.
"It was slippery. It was not only really muggy but there was a little bit of drizzle there. I thought we won the scrap battle on the ground. We seemed to have guys urgent to get on the ground."
The Waratahs had a clear strategy to kick to the air more and carried out the plan as instructed.
While Folau swooped on a loose ball to score a try in the 74th minute, his catch and pass to Cam Clark from a high ball was the highlight of the evening.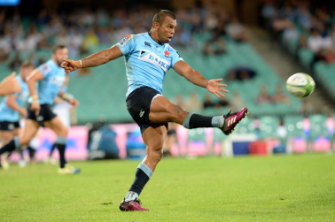 "Its probably the first time tonight weve played that tactic," Gibson said. "We havent been really kicking him a lot of ball, nor been good enough to put it in the right areas for him.
"Tonight we had a different game plan around getting to these guys through the air. Like the champion player he is, when you ask him to pull out something special he does.
"We learnt a large deal from last years fixture with the Crusaders and this year we were able to be far more consistent and apply that pressure for longer."
Crusaders coach Scott Robertson was frustrated that his side dropped so much ball but made no excuses after a tough week following the terrorist attack in Christchurch that has affected the whole of New Zealand.
"We were really desperate to play well and represent our people and show how much we care," Robertson said.
"You could see how hard we worked but we drRead More
[contf] [contfnew]
[contfnewc] [contfnewc]