Sports
Luongo salvages draw after Socceroos suffer familiar shooting woes
Massimo Luongo pulled a rabbit out of the hat for the Socceroos as they scrambled an injury-time goal to ensure their friendly against South Korea ended 1-1 at Suncorp Stadium on Saturday night.
Up until that point, it had been another frustrating night in the front third for the Socceroos, who had nothing to show from 19 shots as they chased the Koreans, who went up 1-0 thanks to a wonderful counter from Hwang Ui-jo on 22 minutes.
Graham Arnold had promised energy and expression and that was there in patches. But it took the introduction of speed men Awer Mabil and Martin Boyle late in the contest to help the Socceroos scratch out a draw in their second-last match before January's Asian Cup defence.
"I'm happy with it. You get in the box, you score goals. It was close but I'm happy I got it," Luongo told Fox after the game.
Advertisement
A strong crowd of 32,922 had braved some typical Brisbane storms to watch the Australians but they were swiftly deflated when the visitors broke out to take a 1-0 lead. Prior to that, it had been largely one-way traffic to the men in canary yellow.
Arnold made full use of his extended subs to finally get the result he wanted, while goalkeeper Mat Ryan produced a scintillating save deep in the second half that helped lift his side and see them press until the final moments.
Fullback Josh Risdon was among the best for the Australians, while Mabil's touch and ability to create would not have gone unnoticed as the 21-year-old tries to cement his spot in the best XI.
Australia were extremely positive in the opening 20 minutes and a goal looked like it would arrive at any moment. Tom Rogic, Risdon and Aaron Mooy were among those who found themselves with quality opportunities.
The Koreans, who had barely had a look at the Australian goal, had other ideas. They broke out of their end via a Kim Min-jae pass in the 22nd minute to see Hwang Ui-jo with the ball at his feet and only Ryan to beat.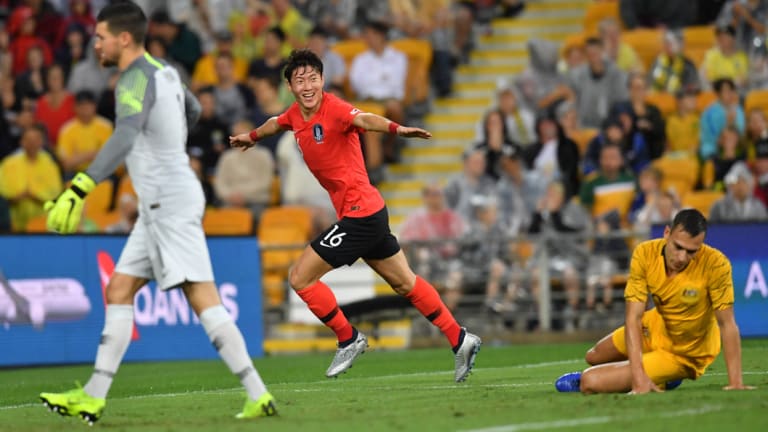 Trent Sainsbury chased to within an inch of his life but arrived too late. The tidy finish was tucked away in the bottom corner and the visitors had a 1-0 lead, taking the crowd out of proceedings in the process.
Arnold wants flexibility to be a key component of the Socceroos' game but it was the Koreans who adapted the better as the first half wore on. The Australians started to look tentative, while their raids had been somewhat dulled after the sharp Korean counterattacks.
Mabil was given his chance early in the second half, stepping in for Robbie Kruse, and Arnold needed him to provide some spark for a Socceroos side that had lost some early momentum.
He brought a welcome injection of pace while Mooy provided some extra intent. After some tentative shots, he found some space and fired one in at the Korean goal, even if it picked out Kim Seung-gyu with uncanny accuracy.
The introduction of Mabil was having the desired effect. He was getting quality touches almost immediately and put it on a platter for Luongo, who couldn't force a save with his volley in front of goal. He would be back.
The Koreans weren't prolific in attack but what they did had a touch of quality. Ryan was forced into a superb save off the free kick from Ju Se-jong, who couldn't have done anything more as he curled it into the far corner.
Ryan had to get some serious air to get the deflection and it was only his brilliance that ensured the Socceroos didn't find themselves down a pair with half an hour left on the clock.
Boyle, the Scottish native who qualifies by way of his Sydney-born father, was sent into the fray by Arnold as he earned his first cap for his new nation of choice. He looked right at home, making a promising incursion before his shot clipped a Korean defender and fell short.
Tomi Juric replaced Leckie with five minutes left to play, with Arnold hoping he could finally be the man to make one of the chances count.
Instead, it was Luongo on hand to pounce as precious time ticked away. He picked up the crumbs as Seung-gyu fumbled, burying it with just seconds to go in injury time and surviving a VAR review to pull the Socceroos from the fire.
Sports reporter