Sports
Gosden looks to finish golden year by breaking Melbourne Cup jinx
Trainer John Gosden has a remarkable year – winning the Ascot Gold Cup, the Arc De Triomphe and Breeders' Cup turf – but his greatest achievement could come at Flemington on Tuesday if Muntahaa can break the English jinx in the Melbourne Cup.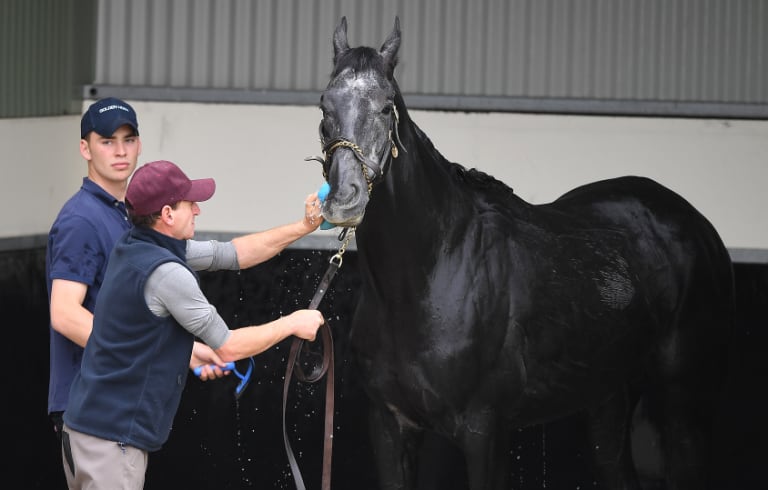 Cracksman, Enable and Roaring Lion will fight out the horse of the year title in Europe, and all carried the Gosden polish as did the best stayer in the world, Stradivarius, which dominated 2018 races beyond two miles in the old dart.
"When your stable is going like that is seems to flow on, it is hard to explain," Gosden said from the Breeders' Cup meeting in the US. "It has been an incredible year and to have a horse in the Melbourne Cup to finish it off is exciting for all of us.
"I just wish I could be there. I would have loved to get a jet down after the Breeders' Cup but there are sales here in the States, so I will just have to watch it from over here.
Advertisement
"This horse was very good in the Ebor and after that it was decided to have a go at the Melbourne Cup because he was going to head down there to David Hayes anyway."
The luck of the Gosdens extended to son Thady, who spent the first half of the year in America with Bob Baffert as Triple Crown winner Justify.
The later part of of 2018 he has stepped up as the foreman for Muntahaa at just 23 years of age.
"He was just a machine, Justify," Gosden junior said. "They were getting very excited about him before I left. I has there for his first two runs and to see him and the horses we have had at home has been amazing.
"To be her with Muntahaa has been another experience I couldn't have imagined. It has been an amazing year."
Gosden junior, who has also spent time at Lindsay Park was given the important job of travelling Muntahaa to Australia after his 3-1/4 length Ebor.
"It is his first time in charge and with that responsible and he has done a good job," said Gosden senior, who has overseen the preparation.
"I obviously couldnt be there with the Breeders Cup on, so I need someone who knows the horse to be my eyes.
"He didn't like the three showers a day but other than that he has enjoyed it."
Muntahaa was impressed in his work with the draw of gate 13, it should allow him the space he needs to perform at his best.
"He is a grand horse. He won the Ebor in great style and he deserved his chance to try and win a Melbourne Cup," Gosden senior said. "I dont need to give Jim Crowley too many instructions because he knows the horse.
"The race usually follow a pattern, they run to the first turn and then just pull up, so well be trying to do what everyone else is trying do get into a good position. Then I would like to see get into his rhythm and take it from there.
"If he could win the biggest race at one of the most joyous festivals of racing in the world it would be a great way to end our year."
Gosden already has 13 group 1 wins in four different countries for 2018. He has a love for a Australian racing from owning some horses with Cups king Bart Cummings.
"It was great to the chance to race with Bart and I love his company and it would be good to join him as a Melbourne Cup-winning trainer."
Racing writer for The Sydney Morning Herald