Sports
NSA extend Conor McGregor, Khabib Nurmagomedov UFC bans
Conor McGregor and Khabib Nurmagomedov have had their suspensions extended by the Nevada State Athletic Commission until an investigation into their post-fight brawl is completed.
The pair were caught up in ugly scenes following their UFC lightweight world title fight, which Nurmagomedov won, in Las Vegas earlier this month.
On Wednesday the commission voted to uphold temporary suspensions for both fighters until a hearing on December 10.
A statement confirmed the commission met on Tuesday and voted unanimously to suspend the pair pending their hearings and withhold $US1 million – half of Nurmagomedov's purse.
Following his victory Nurmagomedov jumped the octagon fence and started fighting McGregor's camp.
Advertisement
McGregor then fought with the Russian's team and they both remain suspended.
The commission voted to release half of Nurmagomedov's purse after initially holding all of his earnings.
"I have felt half was a good enough amount of money, to release a million dollars, that should cover all expenses, give the fighter some money," Nevada Athletic Commission chairman Anthony Marnell told the meeting.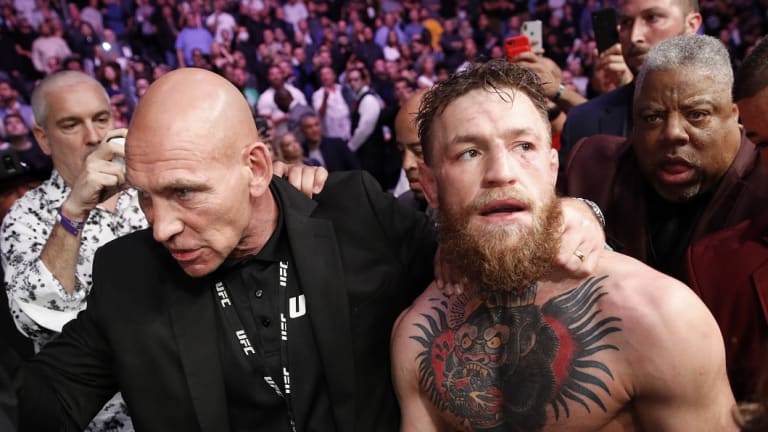 "At the same time, it's still a very substantial amount of money to be withheld until we can get to the case in December and get all of the testimony or potentially we get a settlement agreement.
"Who knows how that will go over the next 60 days, but it's enough money to keep this contestant's interest in this hearing."
Both fighters have been asked to attend the hearing in person.
The incident began after Nurmagomedov earned a fourth round submission win and then leapt over the cage to go after McGregor's teammate Dillon Danis.
PA