Sports
Carrick had it all with United and England – but depression soured it
Michael Carrick had it all with Manchester United and England – but depression soured it
Michael Carrick has wondered for a long time if he might have something in common with two of England's highest-profile cricketers of the modern age, Marcus Trescothick and Jonathan Trott, both of whom decided that the stress and anxiety they felt on tour was too high a price to pay.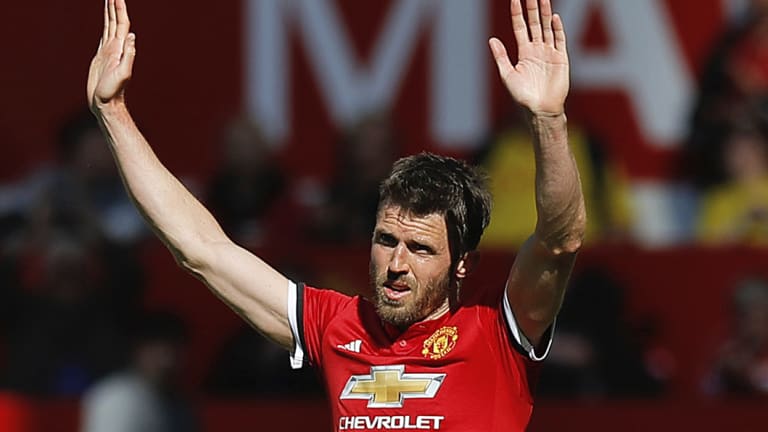 Carrick's revelations this week about the depression and anxiety he felt for a period of his career, most pertinently after his Manchester United team lost the 2009 Champions League final to Barcelona, may prove to be a game-changer for elite English football. His newly-released autobiography, Between The Lines, details what he describes as his stress and depression with the kind of clarity that a player of his stature has never yet felt emboldened to make public.
When we met this month, Carrick looked back upon the worst season of his life, culminating with him desperate to leave the 2010 World Cup finals in South Africa, and said that it was the stories of the two English cricketers that struck a chord.
"I was thinking about Trescothick and Trott," he says, "they came out and spoke about it and theirs [stress and anxiety] was being away with England and travelling, and that kind of struck me about the 2010 World Cup.
Advertisement
"It was just like, 'Get me out of here', and as much as I was fighting it and thinking, 'What's wrong with you? You have got nothing to worry about,' I just struggled. I couldn't deal with it. I don't know why. I still don't know why. It just happens and you deal with it. I didn't speak to anyone about it and my mum and dad didn't know until the book came out. We are really close. I think they were a bit disappointed that they didn't realise or I didn't tell them."
Trescothick's problems with mental health had become overwhelming in 2006, when he withdrew from England's tour of India in February of that year.
Despite attempts to come back, he announced his international retirement two years later although, like Carrick, there was never any question of his successful club career being curtailed. Trott left the Ashes tour of 2013 and two years later, having played on a West Indies tour in 2015, also announced his retirement from international cricket.
As for Carrick, his international career carried on until he was 34 in the stop-start fashion it had always progressed, although he never went to another tournament having declined to be a standby player for Euro 2012.
Both Trott and Trescothick have written extensively about their struggles with stress and anxiety and this is Carrick's contribution – one to which he was committed. There was, he says, "no chance" that he would leave the issue out the book.
"The Trescothick and Trott situation did ring a bell. There was no reason [to feel the way he did in 2010]. Jacey [his son] was born a few weeks before the World Cup, healthy and fine. My wife, Lisa, was struggling at home with a bad back and [daughter] Louise was two. So they were having a tough time at home, but not to the extent where I would be feeling like that."
What is notable about Carrick is just how hard he takes the bad times. "I was playing awful," he says of his annus horribilis, 2009-2010, a season in which he played 49 games for club and country, although those numbers do nothing to convince him otherwise. He goes back to the second leg of the 2010 Champions League quarter-final against Bayern Munich, when he recalls in pin-sharp detail being "shrugged off the ball" by Ivica Olic for the Germans' first goal.
"The Bayern game sums it up. We are 3-0 up, cruising, and then I made a mistake, they score, then they score again and it's 3-2 and we are out the Champions League [on away goals]. It's like it hit me again, as if everything is a disaster. It's my fault, again. You start questioning yourself. It's the constant battle of week to week, ups and downs. You have got to keep that level. Maybe it was me in 2009. That was the end of my third year at United. Maybe I just had enough. I haven't got the answer and when we came back, I was better and kind of stronger, but it did take quite some time to get over it. It was a case of that was my limit."
Was it that, simply the stress of playing for the most successful English club of the era, one for whom reaching the Champions League final was a basic expectation? "Stress. Maybe, yeah, and when it came to the ultimate point I wasn't quite there. There was probably an element of that exhaustion. Not physical, but maybe mental. I don't know."
The anxiety manifested itself in many different ways, especially in South Africa in the summer of 2010, but one of the most striking is Carrick recalling how he perceived others. Here was a player who at that stage had won three Premier League titles, the Champions League and two League Cups in the four years he had been at United since his first World Cup – yet he found himself unable to be happy.
"I was looking at the lads in the England squad and thinking, 'He looks like he's flying. He's not got a care in the world. He looks happy.' It's a bizarre feeling that all those things that never mattered before are such a big deal."
As a coach now, Carrick says that he would see stress in a player of his: the demeanour, the slump of the shoulders – what he calls "that magic word, 'confidence'". "It shows what influence the mind has in top-level sport, from game to game. It's tiny margins. Sometimes you feel fine, you see everything clearly and it's great. Other times you get the ball, you see six things and you pick the wrong one. That's just pure mind, confidence. Why? I don't know. That's something you have to fight with as an athlete."
The Daily Telegraph