Fashion
Shoes with Midi Skirts: How to choose the perfect shoes for midi skirts?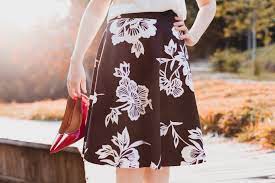 Seasonal trends have decreed that midi skirts will be the star of winter. Knee-length or just below, this versatile and quick-change garment remains a favorite of the female public. Precisely because of the possibility of declining it in many very different forms. From the close-fitting pencil skirt to the fuller circle skirt. But what are the right shoes to combine with a midi skirt during the cold season? The choice is varied but to be in line with the autumn winter 2022/23 trends there are models and ways to wear them capable of giving the look an ultra-contemporary touch.
Boots and ankle boots at 360°
The universe of boots has always got along very well with that of midi skirts. For autumn-winter 2022/23 this rule is confirmed even more decisively since they are among the trendiest shoes. Speaking of tall boots, straight pencil midi boots are perfect paired with classic round-toe, block-heeled models or wider and curled with an Eighties effect, perhaps with a sharp point and stiletto. While pleated skirts are renewed in style when worn on second-skin effect custard models that reach beyond the knee, almost resembling hold-up stockings. However, an always valid and very practical option is also that of classic ankle boots with or without heels, ranging between more tapered shapes and chunky proportions.
Loafers with socks and tights
Pleated skirts are experiencing a second youth this season. From retro garments to protagonists on the most prestigious catwalks, from Burberry to Prada. Their preppy charm is even more highlighted when worn with loafers or oxfords. To ride even more on the trend of the moment, it is better to combine another essential accessory, short socks in contrasting colors for moccasins and black or dark lace-ups, opaque tights in total black with light, bright colors or metallic shades.
Décolletées and Mary-Janes but with a twist
The décolletées are perhaps the most popular and also the most obvious combination for midi skirts. There being evergreen shoe makes them perfect to be worn under pencil, pleated, full and flared skirts. Therefore, there is no approach limit but to make the look less banal this season, it's better to aim for models with ankle straps and with an extra twist, not even excluding sling backs. Highlighted decorations, applications, unusual shades of color. Another interesting and trendy option is that of the Mary-Janes, with a strap on the instep is single like the one proposed by Prada or double and crossed as seen by Thom Browne. During the day they are worn with tights and in the evening, for more special occasions, with bare legs.
This article was originally published on AMICA