Middle East
US strikes Iran-backed groups in Syria twice in 24 hours after attacks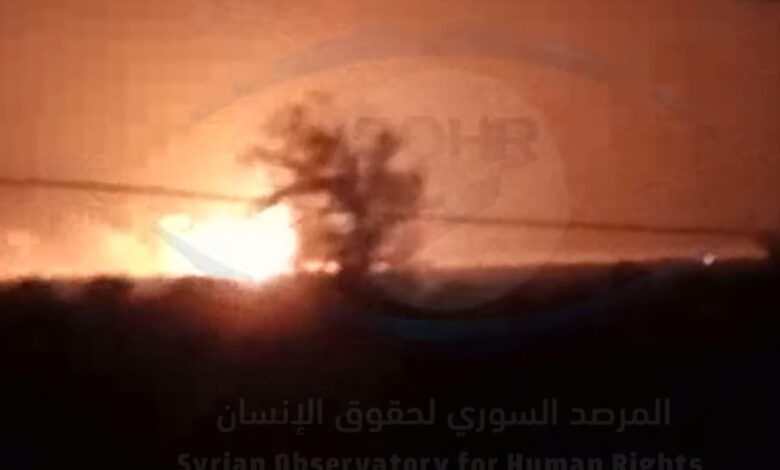 The US says it conducted two rounds of air strikes in eastern Syria in one day against groups affiliated with Iran's Islamic Revolution Guard Corps (IRGC).
Early on Wednesday, jets bombed bunkers in Deir al-Zour province in retaliation for attacks on US troops last week.
In the evening, rockets were fired towards two US bases, injuring three service members, the US military said.
Helicopters attacked vehicles used to launch some of the rockets, killing two or three suspected fighters, it added.
"The United States will not hesitate to defend itself against Iranian and Iran-backed aggression when it occurs," Undersecretary of Defence Colin Kahl said.
About 900 US troops are operating out of bases in southern and eastern Syria, without the permission of the Syrian government, as part of the US-led global coalition against the jihadist group Islamic State (IS).
They are tasked with preventing a resurgence of IS, whose militants once controlled large swathes of Syria before being defeated in 2019 following separate campaigns waged by US-backed Kurdish and Arab militia fighters and Iran- and Russia-backed pro-government forces.
The IRGC has built a substantial presence in Syria since the civil war began in 2011, sending hundreds of troops to advise President Bashar al-Assad's forces and to train and arm thousands of militiamen.
President Joe Biden ordered the first round of strikes following two attacks on US bases on 15 August that were blamed on Iran-backed groups. The attacks, which caused no casualties, saw drones target the al-Tanf Garrison, in the southern desert, and rockets land near Green Village in Deir al-Zour.
US F-15 and F-16 jets dropped guided bombs on nine ammunition and storage bunkers in Deir al-Zour in the early hours of Wednesday, military officials said.
The Syrian Observatory for Human Rights (SOHR) reported that the jets targeted warehouses in Ayyash, about 10km (6 miles) north of Deir al-Zour city, and a camp belonging to the Fatemiyoun Brigade, a militia made up largely of Shia Muslim Afghan fighters.
The UK-based monitoring group cited sources as saying that six Syrian and non-Syrian fighters guarding the sites were killed.
Iran's foreign ministry insisted it had "no links" to the targets and called the attack "a violation of Syria's sovereignty and territorial integrity".
Later, US Central Command said in a statement that three US personnel were injured when several rockets landed inside the perimeter of the Conoco base in Deir al-Zour. Rockets also landed in the vicinity of Green Village.
Initial assessments indicated two or three suspected militants involved were killed when US attack helicopters destroyed three vehicles and equipment used to launch some of the rocket fire, the statement added.
The SOHR reported that three Iran-backed fighters were killed near Conoco and that there were also loud explosions overnight in Mayadin, 45km south of Deir al-Zour city, as US aircraft bombed Iran-backed militia positions there.
Read from: https://www.bbc.com/news/world-middle-east-62658883