Music
Hold Me Closer: Britney Spears releases first new music since 2016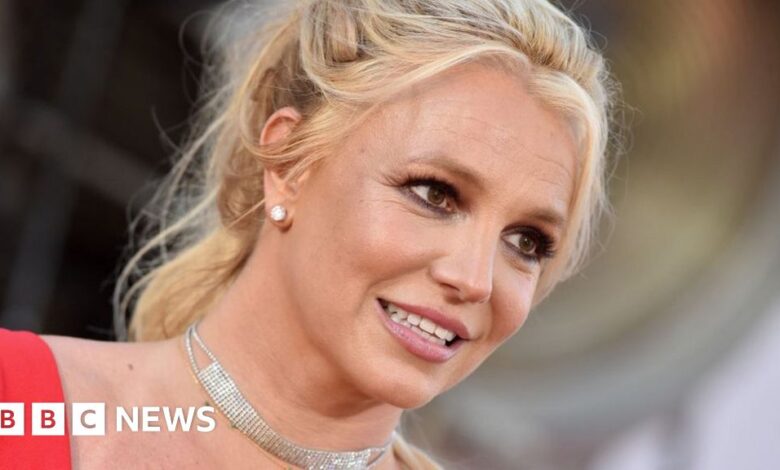 Britney Spears has released her first new music since being released from a conservatorship that controlled almost every aspect of her life.
Hold Me Closer – a duet with Sir Elton John – hit streaming sites on Friday, marking Spears' return to music after a six-year hiatus.
"It's pretty damn cool that I'm singing with one of the most classic men of our time," she said ahead of the release.
"I'm kinda overwhelmed… it's a big deal to me!"
The song incorporates three of Sir Elton's classic hits – Tiny Dancer, The One and Don't Go Breaking My Heart – over a summer-fresh club beat.
Spears and Sir Elton sing in unison throughout the track with their voices drenched in echo, making it hard to assess how Spears' voice has changed since we last heard from her.
However, she lets loose with a few ad libs – including a trademark "baby" halfway through the track – that suggests her vocals have matured and deepened over the last six years. (An unsubstantiated fan theory contends this is Britney's natural register, and that she was forced to sing in a "fake baby voice" by her former managers).
Sonically, Hold Me Closer is cut from the same cloth as Cold Heart, the Dua Lipa duet that gave Sir Elton John a global number one hit last year.
That formula proved irresistible to multiple radio formats and streaming playlists, and helped introduce Sir Elton's hits to a younger generation.
It's no surprise that he's trying to recreate the magic on this follow-up, which also melds two eras of pop, with the two stars singing nostalgic melodies over an airbrushed disco groove.
In an interview with The Guardian, Sir Elton said it had been his husband, David Furnish, who suggested putting Spears on the track.
"She sang fantastically," said the star. "Everyone was saying they don't think she can sing any more. But I said, she was brilliant when she started so I think she can. And she did it, and I was so thrilled with what she did."
Sir Elton previewed the song to diners at a French beach restaurant earlier this week, singing along as a DJ played the track.
"I am absolutely thrilled to have had the chance to work with Britney Spears," the star said.
"She truly is an icon, one of the all-time great pop stars and she sounds amazing on this record. I love her dearly and am delighted with what we've created together."
Last November, Spears was freed from the controversial conservatorship that controlled almost every aspect of her life for 13 years.
It meant the star could once again take control of her finances, career and personal life, and would no longer have to pay a team of professionals and lawyers to oversee her affairs.
Although fans have been clamouring for her to return to music, the star has been reluctant to take that step.
In a series of Instagram posts last year, she said she was "staying clear" of the music industry.
"People have no idea the awful things that were done to me personally," she wrote. "And after what I've been through, I'm scared of people and the business!"
Sir Elton has often supported musicians who are struggling in their personal and professional lives, from Robbie Williams to Eminem, and he says his approach to Spears was motivated by the same instincts.
"It's hard when you're young. Britney was broken. I was broken when I got sober. I was in a terrible place. I've been through that broken feeling and it's horrible," he told The Guardian.
"And luckily enough, I've been sober for 32 years and it's the happiest I've ever been. Now I've got the experience to be able to advise people and help them because I don't want to see any artists in a dark place."
After Tiny Dancer was released, fans promised to buy and stream the song to show Spears they still loved her.
"I hope she gets all the support in the world after the hell she's been in for 15 years," wrote one fan on Reddit.
"Britney sounds amazing!" said another on YouTube. "Love the song, the melody, everything! A mega hit is born!"
""We are coming for #1 all over the world, Britney & Elton deserve it," added a third.
But critics were not as enthusiastic. "Oops, we did it again and ruined song," read a headline in the Times on Friday, with its writer Will Hodgkinson describing the song as a "bloodless remix" which "kills the magic of the original".
"Right from the overproduced opening bars, the hotel foyer-friendly funky bass and the sickly smooth guitar lick, from the way John and Spears's voices have been treated in a way that makes them sound like they might dissolve into the background entirely, this is a massive opportunity wasted."
The Telegraph's Neil McCormick was also unimpressed, writing: "Elton John and Britney Spears have just made one of the most pointless records in pop history."
"Hold Me Closer is an ephemeral trifle that is very much less than the sum of its parts. Cobbled together from two far better songs, it's a dreamy little wisp of a thing that plays to neither of their strengths and coasts along on novelty value alone."
On the contrary, said The Guardian's Michael Cragg, the song is "filled with a power and poignancy of its own".
"Spears seems to hint at finding that for herself again in music," he added. "Even if this is a one-off – and who can blame her if she doesn't want to return to pop full-time – that feels like enough."
Read from: https://www.bbc.com/news/entertainment-arts-62680081