Australia
COVID-19 cases and deaths rise in NSW as hospitalisations and ICU patients decline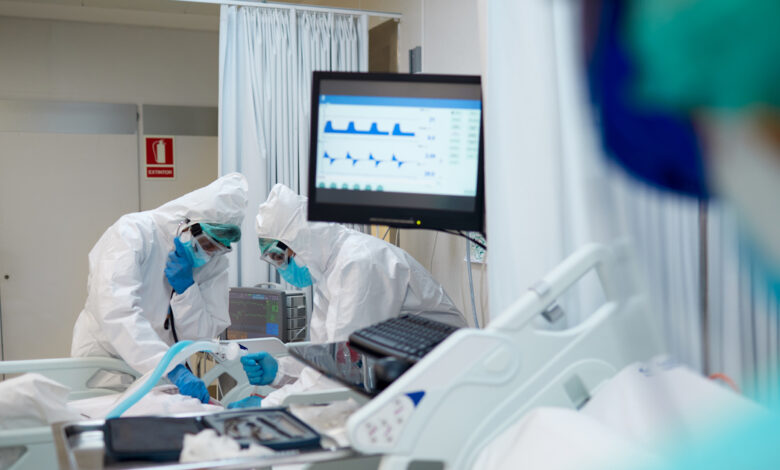 Hospitalisations and intensive care admissions have fallen overnight in Victoria and New South Wales amid Australia's Omicron outbreak.
It comes after NSW recorded its deadliest day of the coronavirus pandemic on Friday with 46 fatalities.
Health experts are predicting NSW and Victoria have either passed or will soon pass peak viral loads which will result in less COVID-19 cases and hospitalisations.
But NSW and Victoria are moving ahead with sending students back to school under a COVID-safe plan which requires regular Rapid Antigen Testing (RAT) and mask wearing.
New South Wales
The back-to-school announcement comes as NSW continues to face a slight rise in COVID-19 infections – with 20,324 cases and 34 deaths recorded on Sunday.
Hospitalisations have declined with 2,712 people admitted – down from 2,762 on Saturday – and 189 patients in intensive care.
Across the state, 95.3 per cent of residents aged 16 and over have received one vaccine dose and 93.9 per cent are double jabbed.
Vaccinations for the 12 to 15-year-old cohort have increased to 82.7 per cent for those with one shot and 78.4 per cent for those with two shots.
Students aged five to 11 are coming out in droves with 26.5 per cent receiving their first jab – an increase of 2.4 per cent on the previous day.
Nearly 33 per cent of the eligible population aged over 18 have received a booster shot.
Sunday's 20,324 positive tests came from 6,704 RATs and 13,620 PCR tests reported over the last 24 hours to 8pm on Saturday night.
NSW Health noted that 6,165 of the 6,704 positive RATs were taken in the last seven days and double-ups remained a strong possibility.
Total active cases have dropped to around 238,000 and daily caseloads over the past week have fallen since last Sunday when more than 34,000 cases were reported.
Over the past three days, the caseload has remained in the 20,000s – dropping from more than 25,000 on Friday to just over 20,000 on Sunday.
It comes as NSW prepares to distribute millions of rapid antigen tests (RATs) to schools across the state ahead of term one.
Students and teachers at over 3,000 schools and early childhood centres will be provided RATs for use twice a week.
In addition to this, masks will be mandatory for all staff members and high school students and highly recommended for students Year 3 and above.
Victoria
COVID-19 hospitalisations, cases and deaths have consistently fallen across Victoria indicating peak viral loads may have already been passed.
The state reported 13,091 new COVID-19 cases and 14 deaths on Sunday – down from 16,016 infections and 20 deaths on Saturday.
Hospitalisations fell significantly on Friday by 110 – down to 1,096 and then again on Saturday to 1,029, before reaching 1,002 on Sunday.
Victoria's 13,091 new cases came from 6,466 RATs and 6,625 PCR tests, bringing total number of active cases to 191,058.
More than 93 per cent of the over 12 population are double-dosed with a vaccine while 31 per cent have received a booster shot.
Premier Daniel Andrews urged Victorians to go for their third dose in a press conference on Sunday.
"This is a three dose project, not a two dose, it is three to lock in everything we have achieved as one of the most vaccinated communities anywhere in the world," he said.
Mr Andrews also revealed Victoria's back-to-school plan had been developed in partnership in NSW resulting in similar learning arrangements.
Mask-wearing and twice-weekly RAT will be used when kids go back to face-to-face classroom learning on the first day of term one this year.