Fashion
Exclusive: Jennifer Lopez Says You'll Always Find This Sexy Shoe Staple in Her Fall Wardrobe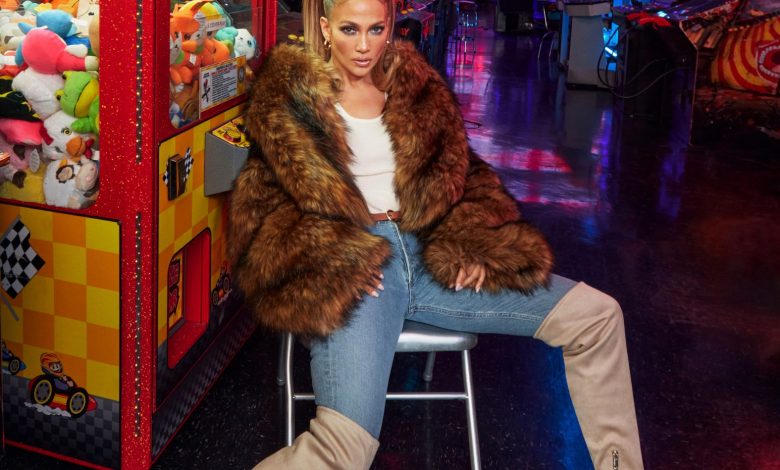 instyle– Once the cooler weather hits and trees start shedding their leaves, there's no denying that things can feel pretty gloomy. It's part of the reason why we're fans of incorporating fun, colorful fashion into our fall wardrobe — and, it seems, that Jennifer Lopez feels the same.
For her Fall '21 JLO JENNIFER LOPEZ collection, the singer, actress, and businesswoman designed a variety of shoes that will no doubt add a little joy to our lives each time we slip them on. From crystal-adorned sky-high boots to sweet pairs of sneakers — all of which from $40 – $160, and are exclusively available on DSW.com/jlo — these items may just be the overall outfit and mood booster we need right now.
RELATED: Celebrity Stylist Dani Michelle Says These Are the Shoes to Invest in for Fall '21
Plus, that news didn't already make your day, this latest launch also comes with the perfect campaign to match.
Called HIT PLAY, the images show Lopez posing around an arcade in her new designs. Her lucite heels shine as she kicks up her feet, while her beige over-the-knee boots stand out against all the neon colors.
HIT PLAY is also references an 8-bit interactive video game that can be played on DSW's site — yet another impressive thing to add to Lopez's resume. According to a press release from DSW, players will be able to "navigate the JLo avatar to jump through city streets, capturing JLO Jennifer Lopez shoes for points and ultimately reaching a DSW store surrounded by her Fall '21 collection."
Additionally, JLO JENNIFER LOPEZ will also be dropping a HIT PLAY capsule collection, where extremely special, limited-edition styles will be released every few weeks. Of course, that's how you can get your hands on the lucite wedges the star wears in these sexy photos — but you need to act quick! Once they're gone, they're gone for good.
In an exclusive e-mail interview with InStyle, ahead, Lopez shared a few details about this new release, along with what inspired the campaign and a few of her fall essentials.
RELATED: Jennifer Lopez Has Been Following These 20 Genius Style Rules For Over 30 Years
What was it like shooting the Hit Play campaign? An arcade seems like a really fun setting!
"The Hit Play concept really resonated with me — it's all about embracing optimism and having fun, which I think we all need right now. An arcade felt like the perfect venue to tell the HIT PLAY story and fit perfectly with the launch of my video game."
How does that theme tie into the shoes?
"There's a sense of playfulness in the collection that's brought to life with unexpected textures, sparkly accents, and exciting colorways. I designed this season to inspire and hopefully add some confidence to my fans when they wear the shoes."
Can you tell us about the styles you're wearing in these photos? What do you love about them? Those wedges definitely brings back memories!
"The Daya! She's one of my favorite styles in the collection. It's the lucite wedge for me!"
Are beige over-the-knee boots an essential for you? What kind of shoes do you think you'll always have in your closet?
"Can you really call it fall without an over-the-knee boot? It's absolutely a staple for me and I love the color, it adds some glamour. My go-tos are sexy heels, a cool sneaker, and boots with an added touch like shearling or sparkle — every girl needs those styles in their closet."
RELATED: I'm a Fashion Editor with a Closet Full of Shoes — But These Are My 8 Favorite Pairs
Can you tell us about that sparkly jumpsuit as well? Why was that the perfect look for those shoes?
"That look lends itself to the playfulness and positivity of the collection. I love the bold color and it has a bit of a retro feel which fits perfectly with the campaign vibe."
Both of these outfits seem to represent your signature style in different ways. Do you have fall essentials you find yourself reaching for year after year?
"You can never go wrong with a good transitional coat. I like to have a few options, like a classic trench and a show-stopping piece, whether it's in an on-trend color or has a fun pattern."
What are your thoughts on skinny jeans? If you're still into them, what shoes would you pair with them?
"I like to be adventurous with my style and try new things but I'm still a fan! They look great with a knee-high boot like the Adalynn, which is a blush colored all-over crystal boot I'm obsessed with from the fall collection."