Sports
Boxing heavyweights Joshua and Fury are on a collision course, but what's the hold-up?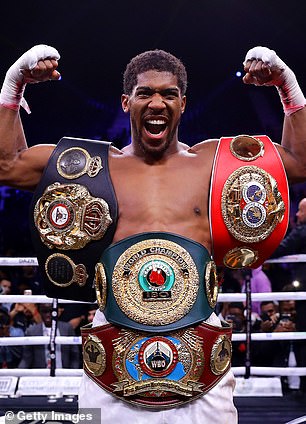 ibtimes– It has been a difficult 12 months for sport, and professional boxing hasn't avoided the effects of the coronavirus pandemic. Global lockdowns and strict restrictions have seen the biggest fights postponed. Bouts that have been given the green light have taken place without fans at empty, eerily silent arenas. But boxing comes out swinging as we emerge from these troubling times.
There are some big fights on the wishlist of fans worldwide, but they don't come much bigger than Anthony Joshua and Tyson Fury's proposed battle. Fury vs Joshua has been rumoured for quite some time, and with both men sharing all respected heavyweight title belts, the scene looks set for the Brits to settle their differences.
A capacity crowd the priority
At the final bell, we'll have something fight fans have been starved of for years. One heavyweight champion of the world. Which hard-hitting gladiator will be recognised as the best fighter on the planet? It's anyone's guess at this point.
Negotiations in the deal between Joshua and Fury are still ongoing. Both men have agreed in principle to the contest. They're eager to risk their titles and reputation for a chance to dominate the sport. The sticking point at present seems to be the venue. This is a fight that demands a massive audience, in attendance and watching pay-per-view around the world. The money both fighters demand to get this fixture confirmed means promoters need monumental viewing figures.
The fighters and their promotional teams' first choice is a UK venue, preferably a Wembley Stadium in London packed with more than 90,000 seats filled from ringside to the top tier. Under normal circumstances, Anthony and Tyson wouldn't have a problem doing that. AJ has sold out Wembley many times before and has recorded some of his most impressive wins at the home of English football.
We are currently not under normal circumstances, however. The current Coronavirus rules in the UK ban large gatherings. That is expected to be eased, approaching the Euro 2020 football tournament with Wembley hosting both the semi-finals and the final. Could the UK be in a position to jump from that to a packed Wembley for AJ versus the Gypsy King before August? That remains unclear and somewhat of a gamble today.
The show must go on
If Westminster can't confirm a sell-out at Wembley before August, what are the alternatives? Organisers could put the bout off a further few months and hope to host it in London before the end of 2021. AJ and Fury could take on different opponents in the meantime, perhaps overseas or behind closed doors in the UK.
That would make sense, but the danger is either or both could lose those fights. That would take away the unification element to their battle. It's unlikely to happen, but Joshua was knocked out by Andy Ruiz Jr in New York when firm favourite.
Defeat isn't the only danger either. A bad cut or injury suffered from a punch or clash of heads could put one fighter out for months, postponing Joshua vs Fury further. A training injury may occur, such as a sparring incident or muscle damage whilst lifting weights. There is too much at stake here for either team to be taking unnecessary risks.