Fashion
How The Supremes' gowns broke the race ceiling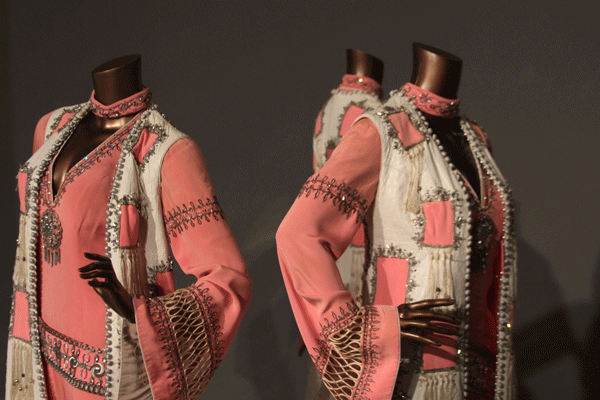 smh– When Mary Wilson, Florence Ballard, and the-then Diane Ross met as children, in a housing commission in Detroit in the 1950s, there was no telling that they would not only one day become the most famous girl group of all time, but that their breathtaking costumes would play an important role in the civil rights movement.
But with their heavily embellished chandelier gowns, body-hugging dresses with matching turkey-feathers circling the hems, shimmering capes and elaborate hairstyles – created with the help of Hollywood designers including Bob Mackie and Michael Travis – they changed racial perceptions at a time when the United States was becoming engulfed by political upheaval during growing unrest over the fight for equal rights.
"These were [three] brown women as they had never, ever been seen before on national television," Whoopi Goldberg wrote in the forward to Supreme Glamour, a book that documented the group's outfits by Mary Wilson who died on Monday at 76. "Everything about the Supremes – all those gowns, all those pantsuits, all those caps, gloves, furs, the makeup, the eyelashes, the wigs – made me believe they were speaking to me. I too could be well-spoken, tall, majestic, an emissary of black folks" who – like The Supremes – "came from the projects".
Oprah Winfrey once said that, as a 10-year-old, she felt the same. "You never saw anything like it in the 1960s – three women of colour who were totally empowered, creative, imaginative," she is quoted as saying in Diana Ross: A Biography. "To see the Supremes and know that it was possible to be like them, that black people could do that …"
Indeed, the group is credited with being the first black musical act to have used "visual signifiers" – according to Howard Kramer, former curatorial director of The Rock & Roll Hall of Fame in Cleveland – to make them "palatable to a white audience".
It was intentional. Diana Ross (as she became known) and Wilson might have initially sewed some of their own costumes; one, with a fitted bodice and a balloon skirt from a Butterick pattern. But once the group was signed to Motown Records in 1961, the label's founder, Berry Gordy, had them styled – partly by former model Maxine Powell, who headed up the label's in-house finishing school – in a way that would neither lean towards white culture or black culture, so that they would appeal to the widest possible audience.
It worked. The tactic, along with their angelic harmonies and soulful songs, led to an unprecedented stream of hits – 45 of them between 1962 and 1976, and 12 number one hits in the United States, including You Can't Hurry Love, Baby Love, and Stop! In The Name of Love. Their songs crossed the racial divide, and attracted huge white audiences.
And their iconic style remains influential. Not only have countless artists taken The Supremes' style as inspiration – from Janelle Monae to Destiny's Child and Janet Jackson – but the group's costumes are still a touch point for many designers.
"I'm doing a dress for this season's Dancing With The Stars based on one of their silver paillette dresses," says Tim Chappel, the Academy-Award-winning designer of the costumes for The Adventures Of Priscilla, Queen of the Desert. "I come back to it all the time, that set of dresses. There's this thing they used to do which was so beautiful, they used to sew giant paillettes [on their dresses]– big sequins, that rather than having a hole in the middle, they're on the edge, so they swing when they move, which just made them shimmer, and really coruscate."
This just scratches the surface of his admiration. "During the whole civil unrest in the United States, they had to be ultra-classy, elegant ladies, and be showbiz at the same time, which is quite a feat, when you look at the other things that people were wearing in the same period," he says, noting that the group's contemporaries showed a lot more skin. "The Supremes managed to do it without looking cheap."
NIDA students, too, continue to draw inspiration from The Supremes.
"Whenever we're talking about the 60s or making a show that references the 60s, their clothing and their hair in particular will be something that we would have a look at," says NIDA's head of costume, Annette Ribbons. "Because they were trend-setters, for young people… The power behind seeing all three of them dressed as a set was certainly something that is being used over and over again."
And, for Mary Wilson, who worked hard for decades collecting and archiving many of the group's costumes – many were lost, over the years, and several sets of costumes were destroyed in a fire in Mexico City, in 1974 – the dresses were a reservoir of precious memories, which preceded years marked by much sorrow. (After the group disbanded in 1977, she was dropped from Motown's roster in 1980 while recording her second album, and her 16-year-old son died in a car crash in 1994 when the Jeep she was driving veered off a road.)
"Oh my god," Wilson told a reporter for Britain's ITV news, when a British vintage store owner, who had found one of her beaded bodysuits in a garage sale in France returned it to her in 2019. "I owe you a lot," she told the store owner. "I'm sorry, I'm bringing tears here." She fanned her watering eyes. "It's more than important, it's important because for someone to care enough… It's like your child is coming home, what can I say?"