Australia
Pantoro pleased with progress made across operations as Norseman Gold Project moves forward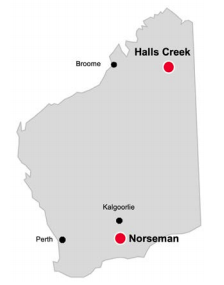 Pantoro Limited (ASX:PNR) (FRA:RKN) is pleased with progress made across its operations as it navigated through the extraordinary circumstances presented by the COVID-19 pandemic.
The company said the pandemic did not have any material impact on operations at Halls Creek Project or Norseman Gold Project and that results, particularly in the second half of the year, had been pleasing.
"Strongly cashflow positive"[hhmc]

Managing director Paul Cmrlec said: "The board is pleased with the progress made across Pantoros operations.
"Adjustment to operations at Halls Creek has resulted in lowering of the cost base and fulfilment of gold hedging positions in April 2020 has returned the project to being strongly cashflow positive.
"Progress at the Norseman Gold Project has met all company expectations and we look forward to bringing this important production centre to construction and then production in the near-term.
"We thank all of our stakeholders for their ongoing support throughout the past year. In particular, the dedication of employees who experienced significant change and inconvenience due to the COVID-19 pandemic has been critical for our success."
All projects well advanced[hhmc]
All of the projects under immediate consideration for mining have been well advanced with updated mineral resource estimation, mine design and scheduling and ore reserve calculation underway.
A definitive feasibility study is also nearing completion.
Substantial high-grade gold mineralisation has been identified outside of existing resources at the Scotia Mining Centre, while Sailfish, the first prospect to be drilled on Lake Cowan in over two decades, returned exciting initial results.
Pantoro has identified its targets for additional mining centres. They include:
➢Scotia Mining Centre extensions;
➢Mainfield Open Pit and underground opportunities;
➢Polar Bear; and
➢Buldania
Key operational outcomes[hhmc]

The key operational outcomes in the financial year 2020 included:
➢ A total of 38,704 ounces of gold were produced at Halls Creek and 39,257 ounces of gold were sold at an average price of A$2,083 per ounce. All gold forward contracts were fulfilled in April 2020 and the company has remained unhedged since.
➢ Acquisition of 50% of the Norseman project completed in July 2019, providing a large-scale gold asset which provides the platform for Pantoro to transition to a mid-tier producer in the near-Read More – Source
[contf]
[contfnew]

[contfnewc]
[contfnewc]