Europe
As Britain Deploys Navy, Brexit Complicates Boat Migrant Crisis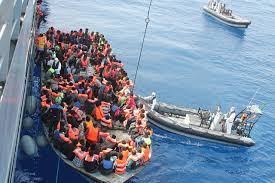 LONDON – British and French ministers meet Tuesday in Paris for urgent talks on the growing migrant crisis in the English Channel. So far this year, more than 4,000 migrants, mostly from Africa and the Middle East, have attempted the crossing from France to Britain in overcrowded dinghies or makeshift boats, including around 700 in the past week.
It is a voyage of some 35 kilometers across the busiest shipping lane in the world. Among the migrants are hundreds of unaccompanied children.
The surge in arrivals is creating political waves. Speaking to reporters in London Monday, British Prime Minister Boris Johnson promised action, but with little detail.
"We need to stop them, working with the French, we need to stop them from getting across the channel. But No. 2, we need to look at the legal framework that we have, all the panoply of laws that an illegal immigrant has at his or her disposal that allow them to stay here," Johnson said.
Immigration Minister Chris Philp was traveling to Paris for talks Tuesday, alongside Britains new so-called "Clandestine Channel Threat Commander," Dan O'Mahoney, for talks with French counterparts on how to reduce the number of migrant crossings. One plan under discussion could see Britain paying more for land patrols along the northern French coastline.
In recent days Britain has deployed naval vessels and spotter aircraft to the English Channel. Former Royal Navy officer Chris Parry says it is right to involve Britains armed forces. "It's quite clear that we do not have a grip on our maritime border. It's unsafe, it's insecure and there's illegal operations taking place on both sides of the channel and also in the channel itself," Parry told Britains Sky News Monday.
It is not clear what role the naval and air force assets will play. Colin Yeo, an immigration lawyer and author of the book Welcome to Britain: Fixing Our Broken Immigration System, told VOA in an interview Monday that forcibly pushing migrant boats away from British waters would break numerous maritime and international laws.
"You cant just push people back and stop them from going any further and hope that they dont drown, because basically some people are going to drown and thats just completely unacceptable. You cant tow them into French waters without the consent of the French," Yeo said.