Europe
Europe's Longtime Powers Unite Behind EU's COVID-19 Rescue Package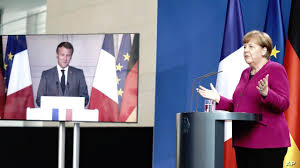 PARIS – When European Union leaders meet virtually for a summit Friday, a familiar duo will again grab the spotlight.
COVID-19, which has battered European economies, is also giving a new boost to Europes traditional economic engines, France and Germany, and possibly the so-far underwhelming relationship between their leaders.
German Chancellor Angela Merkel and French President Emmanuel Macron have found common cause in pushing for a massive coronavirus recovery plan for the 27-member bloc — one that flouts Germanys traditional budgetary orthodoxy and puts Berlin at odds with other frugal states.
But whether the newfound unity opens a new chapter for the two countries to power other joint European initiatives is less certain. Key hurdles still face the coronavirus rescue package, framed in an $843 billion proposal of grants and loans the European Commission unveiled last month.
"I think we can look ahead to a big dogfight," said Daniel Gros, director of the Brussels-based Centre for European Policy Studies, or CEPS, of the opposition facing the package.
Still, Gros added of member states, "They will have to come together — thats quite clear."