Australia
TNT Mines to acquire high-grade US uranium project as the metal price rallies 36% year to date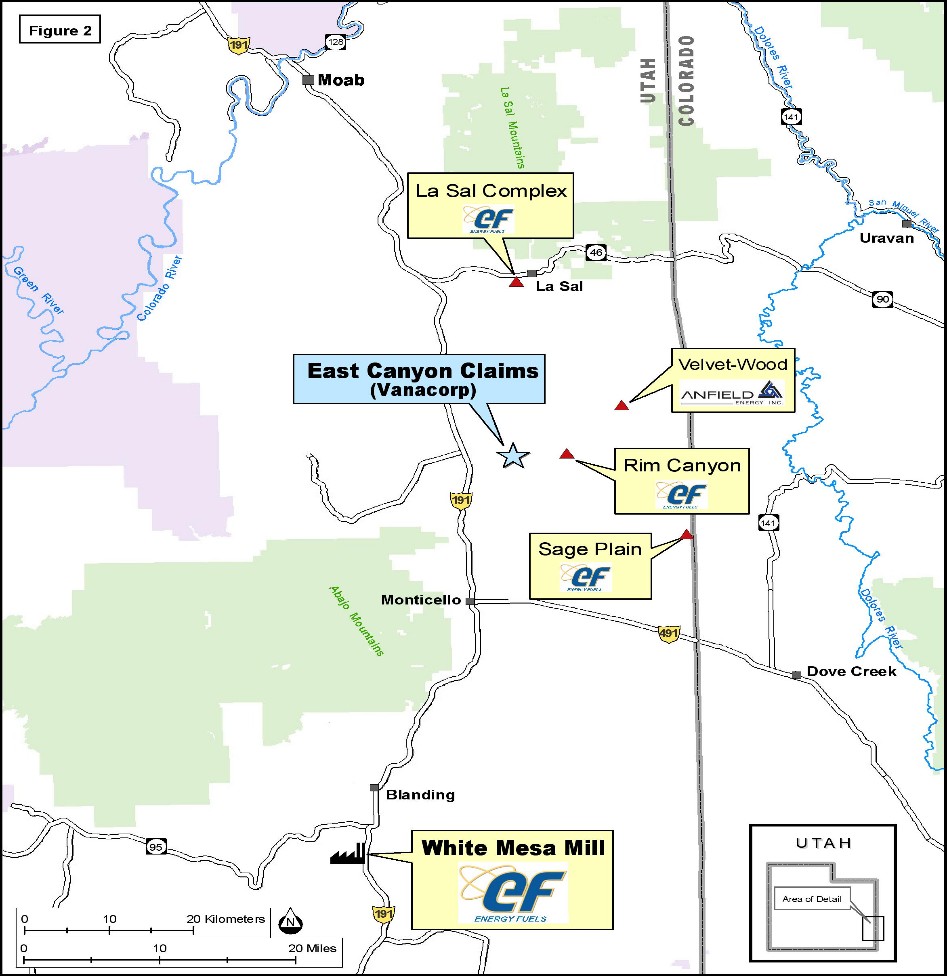 TNT Mines Ltd (ASX:TIN) has entered into a binding agreement to acquire Vanacorp Aust Pty Ltd which owns the East Canyon Uranium-Vanadium Project in Utah, US.
The project comprises 200 unpatented lode claims prospective for uranium and vanadium in the Dry Valley/East Canyon mining district.
Location of project area surrounded by other uranium/vanadium resources
TNT executive director Brett Mitchell said: "Our technical team has confirmed the potential of East Canyon through the due diligence process and we have moved quickly towards formal completion of the transaction.
"We will now proceed with planning for the initial program of exploration following up on the high-grade samples collected in recent fieldwork and the noted occurrences of visible mineralisation in historic workings on the property.
"This initial exploration program will not be expensive and will be comfortably funded through the companys existing cash reserves."
East Canyon Project[hhmc]

The East Canyon Project lies within the Uravan Mineral Belt, an important source of uranium and vanadium ore in the US for more than 100 years.
The project is also within trucking distance (50 kilometres via major highway 191) of the only fully permitted and fully operational conventional uranium-vanadium mill in the US, Energy Fuels Inc.s (TSE:EFR) White Mesa Mill.
The East Canyon Project covers about 4,000 acres in the district and features numerous historical workings including the None Such Mine previously owned and operated by Vanadium Corporation of America (VCA).
A 1962 drill hole location map produced by VCA shows mineralised intercepts ranging from two feet at 0.83% vanadium and 0.127% uranium to seven feet at 1.07% vanadium and 0.237% uranium.
Over 2018 and 2019, Vanacorp collected 26 samples from eight sites that returned assays as high as 0.47% uranium and 9.21% vanadium
Exploration to begin in June[hhmc]

TNT is set to commence an exploration program at East Canyon in June with sampling and mapping of priority targets.
The company is well-funded to complete the program with about $1.9 million in cash at the end of April 2020.
New board appointment[hhmc]

TNT will welcome Peter Woods to the board as a non-executive director upon settlement of the acquisition.
Woods is the founder of Vanacorp, which he established in 2018 to acquire vanadium and uranium projects in the USA.
After exploring southeast Utah in 2018, he began pegging claims in the Dry Valley District and has been instrumental in progressing the project to date.
Uranium industry outlook[hhmc]

Nuclear reactors account for just over 10% of the worlds power, with the US generating about 20% of its domestic power from local reactors in 2019.
Nuclear power provides stable, baseload and low-carbon power supply to underpin the variability of renewable sources.
To meet the increased requirement for stable, baseload power supply, a total of 53 new nuclear reactors are under construction worldwide, more than 100 have been ordered and more than 300 others are proposed.
As a result, uranium demand is forecast to increase significantly over the next 15 years.
However, due to the depressed uranium market for the past decade, very few projects Read More – Source
[contf]
[contfnew]

[contfnewc]
[contfnewc]