Middle East
Netanyahu could emerge as the real winner in the latest Gaza flare-up
Whether or not the decision to kill militant leader Baha Abu Al-Ata was made with political considerations in mind, it has clear political consequences, and most of those appear to favor Netanyahu. Few in Israel question the intent behind the operation, but the timing has come under intense scrutiny.Netanyahu, the longest-serving prime minister in Israel's history is currently in one of the most intricate political situations he has faced in more than 13 years total in office. After failing to form a government following September's elections — his second consecutive failure — the mandate was passed to his rival, former Chief of Staff of the Israel Defense Forces (IDF) Benny Gantz.Gantz has until the end of next week to form a government. If he succeeds, he would supplant Netanyahu as Israel's prime minister."While Netanyahu is fighting for his political survival, every decision of his, when he does not have the mandate [to form a government], provokes inevitable suspicion of a conflict of interest," said Nitzan Horowitz, head of the left-wing Democratic Union party.
Time is running out for Gantz
Each day of fighting with Gaza means one fewer day for Gantz to meet other parties and conduct negotiations.He has already twice delayed his meeting with former Defense Minister Avigdor Liberman, whose Yisrael Beiteinu party is almost certain to play a critical role in any government formed.In a statement Tuesday, Gantz said he had been briefed in advance on the operation to kill Baha Abu Al-Ata. "This was an appropriate decision, both politically and operationally," he said, before promising, "This action will have no impact on the political advances taking place." But it is not really a promise he can keep.Gantz, whose Blue and White party emerged the largest after the election, had three options: undergo another round of elections, form a minority government that relies on the Arab parties for support, or form a unity government, almost certainly led first by Netanyahu.The country doesn't want the first, and now he can't take the second — which may leave the bitter third his only choice.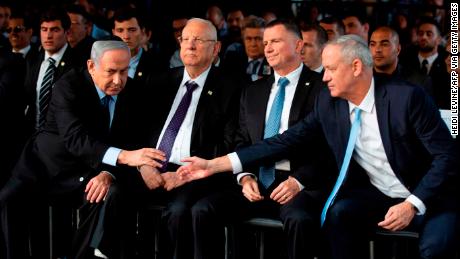 Gantz's choices
No one in the country wants to send Israel to its third election within a year. Polls suggest it wouldn't break the country's ongoing political deadlock or create any real shift in the balance of power. Even if Gantz's party once again came out the largest; if he can't form a government now, there is little to suggest he could do it after another vote.Until Tuesday morning, Gantz had another prospect. He could have tried to form a minority government that relied on the support of the Arab parties to become prime minister. This would have been the most stringently anti-Netanyahu option, removing the prime minister from power and forcing his Likud party into the opposition.It was an idea Netanyahu railed against constantly, warning that a government supported by the Arab parties would be a danger to the state of Israel. On Monday night, Netanyahu described the prospect of such an arrangement as a "direct slap in the faces of the soldiers of the IDF, the warriors that you and I have sent into battle. It's simply unbelievable."Only hours later, Israel carried out the assassination of Baha Abu Al-Ata.The attack prompted Ayman Odeh, the leader of the Joint List of Arab parties, to criticize Netanyahu on Twitter, saying, "A cynical man who lost two straight elections will leave only scorched earth in a desperate attempt to remain in his position. Over the course of a decade, he woke up every morning to deepen the occupation and to distance the possibility of peace — and this he did also today."Odeh's criticism of Netanyahu — and its perceived slight on the Israeli military and its actions — made it politically impossible for Gantz to rely on Odeh and the Arab parties to form a government, which probably leads to the unity option.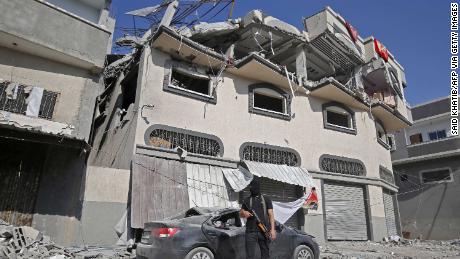 Back to the unity option
Netanyahu has repeated in recent weeks that Israel needs a unity government to face its security challenges. The targeted killing of Al-Ata, which he approved, created exactly one of those challenges. And as the fighting with Islamic Jihad began, Gantz, whose positions on Israel's security are very close to Netanyahu's, had little option but to offer his support.Circumscribing Gantz's options even further is the factRead More – Source