Sports
Smith slayer? Archer has the pace but Tests 'very different': Langer
London: Jofra Archer is all the rage ahead of the second Test but Justin Langer has queried how the express England fast bowler will handle the transition from World Cup star to the Ashes when the series resumes at Lords on Wednesday.
Rarely does the looming Test debut of a player create such intense interest as Archer's has but with Steve Smith having overwhelmed England at Edgbaston, Joe Root's team hope the first-gamer can make an immediate impact.
The 24-year-old Sussex quick is armed with those most precious of attributes – out-and-out speed and striking bounce, as Australia wicketkeeper-batsman Alex Carey found out the hard way in the World Cup when a bouncer left him with a gash on the chin.
The Bridgetown-born son of an English father and Barbadian mother, the ex-West Indies under-19 bowlers World Cup heroics and now Ashes call-up have come in quick succession and wouldnt have occurred this year at all had England not changed their eligibility rules. Destined, according to his father Frank, to become the Michael Jordan of cricket, Archer has already gathered a fearsome reputation.
Advertisement
On the first day of Australias pre-match training at Lords, the bowling machine was cranked up in the indoor nets in anticipation of facing him while batting coach Graeme Hick appeared to be flinging throwdowns in shorter than usual at Smith, who resumed from a four-day break for a lengthy hit-out at the Nursery Ground.
Australia coach Langer said they had done "a lot" of planning on Archer and left-arm orthodox Jack Leach, who have come into the England side for the injured James Anderson and dumped Moeen Ali, respectively.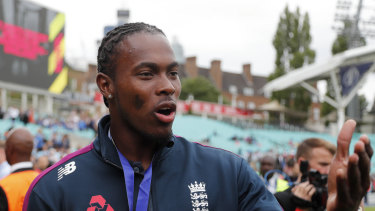 "Im really curious about how Archer is going to go. Hes played one red-ball game in 11 months," Langer said.
"Hes a very skilled bowler and a great athlete. But Test cricket is very different to white-ball cricket. Like weve talked about a long time, weve got to keep wearing them down, and get him back into his second or third and fourth spells.
"[Im] just curious how hes going to go like you are with all fast bowlers. But hes a very talented cricketer. It will be interesting to see how he goes."
Asked whether it was a big occasion for Archer making a Lords debut and replacing Englands all-time leading wicket taker, Langer replied: "Yeah it is."
Archer is no stranger to the Australian players. He made a name for himself in the Big Bash League with Hobart Hurricanes and Smith is his captain at Rajasthan Royals in the Indian Premier League.
Its a five-Test match series, and weve got to be as good at the back end as we are at the front.

Justin Langer
Then there were two meetings in the World Cup, for the likes of Smith, David Warner and Pat Cummins who played in it. "We'll do our homework but we've all faced him," Cummins said.
As for Australias own attack, Langer agreed it would be a big call to tinker with the Edgbaston combination of Cummins, James Pattinson and Peter Siddle but after a first inspection of what he forecast would be a flat pitch was leaving the options open.
"It would, it would [take courage]. But we are also very aware that its a five-Test match series, and weve got to be as good at the back end as we are at the front," Langer said.
"Its easy to be good at the front end and thats what I said after Edgbaston, were not here to win the Edgbaston Test, were here to win the Ashes. We have got to make suRead More – Source
[contf] [contfnew]
[contfnewc] [contfnewc]