Sports
Former Blues skipper Thornely named NSW Breakers coach
Former Blues captain Dom Thornely has been appointed coach of the NSW Breakers and says he feels like a kid with a new toy given he wants to explore how the womens game can continue to improve.
After a stint as assistant coach of the Breakers and Sydney Thunder, Thornely will take over full-time from Jo Broadbent, who took NSW to six Womens National Cricket League titles in seven seasons before standing down earlier this year.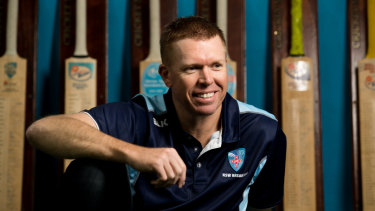 "Im honoured and privileged to be involved in the Breakers because they are seen as the pioneers of womens cricket," Thornely said. "They have a long history of success and developing international players. Im absolutely delighted."
Thornely, a veteran NSW all-rounder who made his first-class debut in 2003 and spent over a decade in the state system, has worked before with the mens side as a batting coach but says he has always been intrigued by womens cricket.
Advertisement
The 40-year-old has interesting and fresh views on how the game should be played, as well as what the structure of the domestic season should look like.
"Obviously they dont have as much power and speed as the male athlete does," Thornely said. "The keeper is often up at the stumps a lot, so that instantly got me thinking around the tactics of the game. Once I started to discuss and talk to a few players it gravitated me to their format of cricket … and it was a real eye-opener. It was like reinventing my knowledge of cricket.
"Its like a young kid getting a new toy. My whole life has been cricket and I was blessed to have had a successful career with NSW and then to open the door to a new element of cricket really has been rejuvenating for me."
Thornely says shifting the WBBL earlier in the year was a smart decision by Cricket Australia because it extends the summer for fans. One day, he would love to see a complete separation between the WBBL and BBL, as well as a full home-and-away competition structure against every state in the WNCL.
Last year the Breakers trained for 36 weeks straight and only played seven proper games of 50-over cricket, something Thornely described as "extraordinary".
"Were seeing a shift where international programs do interfere with WNCL a lot and the amount of cricket our Cricket Australia contracted players will play will reduce from now on because of the hectic schedule," Thornely said. "I went through the same experience with the male Read More – Source
[contf] [contfnew]
[contfnewc] [contfnewc]