Sports
Tennis Travails, Not Triumphs, Gain a Spotlight in an Instagram Series
The gimmick of the "Behind the Racquet" series on Instagram is simple: Tennis players' faces are partially obscured by the strings of the tool with which they make their living.
But the series, created by the American player Noah Rubin, has proved remarkably revealing, allowing his peers to share their vulnerabilities and struggles in raw, often unflinching details.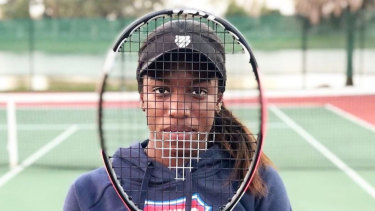 Rubin, 23, began "Behind the Racquet" in January, taking inspiration from "Humans of New York," the popular social media project that has sought to tell the stories of people otherwise lost in the urban shuffle. Rubin, who is from Long Island, said he hoped he could add similar depth to the perceptions of the players pursuing professional tennis careers alongside him.
"I was looking around and thinking, 'I don't think people really know their stories,'" he said. "I think there's a lack of connection between fans and the players."
Advertisement
Rubin, who won the junior title at Wimbledon in 2014, has spent most of his professional career playing on the lower Challenger circuit and struggling with injuries, reaching a career-best ranking of 125th in October. Many of the players whom Rubin has featured on "Behind the Racquet" have had similar career arcs, with little news media attention or recognition despite their world-class talents.
Rubin interviews players to create the first-person captions that accompany the photos. In more than 40 posts, players have detailed a wide range of experiences, including struggles with motivation or stuttering, financial hardships and misdiagnosed injuries. Promising young players who have been derailed by injury and fallen off the tennis radar, like CiCi Bellis and Ana Konjuh, resurfaced on "Behind the Racquet" to tell their stories.
"I want people to know what's going on," Rubin said, "and I'm not going to sugarcoat it."
He said he felt "almost as a therapist" at times.
"I'm trying to ask them what that was like, to get deeper into it, when all I want to say is, 'I'm really sorry,'" he said.
Many players have been eager to join the project. After commenting on an earlier post, Sachia Vickery was contacted by Rubin and jumped at the chance to participate. She shared a story of not being able to afford breakfast before the final of a junior tournament.
Bradley Klahn, whose post described a panic attack before a match at the 2014 French Open, said he saw "Behind the Racquet" as part of a larger movement toward athletes' being more open about mental health problems.
"You're starting to see more people show more vulnerability than what maybe we were used to, opening up and not always trying to put on this tough-guy mentality," he said.
The most prominent player who has participated is 17th-ranked Madison Keys, a finalist at the 2017 U.S. Open. She discussed her two-year battle with an eating disorder as a teenager.
"I let other people change how I felt about myself," Keys said in her post, "and that hurt the dream I've been working towards since I was 4 years old."
"Behind the Racquet" forms a coherent and dispiriting picture of the human toll tennis takes, particularly in its current structure. Players ranked around Rubin's current level of 183rd in tRead More – Source
[contf] [contfnew]
[contfnewc] [contfnewc]