Sports
Burgess tips cap to 'good character' Lewis after second on-field clash
Sam Burgess' showdown with Lachlan Lewis on Good Friday wasn't the first time the pair have gone toe-to-toe.
Lewis was playing just his third NRL match for the Bulldogs in Round 18 last year when Burgess made a point of testing out the 22-year-old's mettle.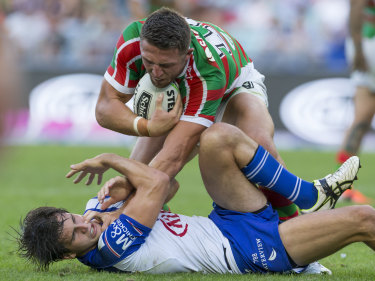 The result was the same as the Good Friday clash. Lewis did not take a backwards step.
"He did exactly the same to me last year. I played against him last year and it was the same sort of thing," Burgess said. "He didnt take a backwards step. He had played three or four games of first grade so I had a little… see where he was at.
Advertisement
"I hear he is a good character and he has a personality. He plays that way and hes not shy. I really appreciate that because I think character has been lost to the game at times."
The quiet nod in Lewis' direction from the Souths star didn't come without a subtle dig.
Burgess may have appeared frustrated by the Canterbury halfback's presence but said the private tussle did not have any real impact on the outcome of a match Souths largely dominated.
"He did a good job on the weekend I suppose but I dont think it affected the result too much," Burgess said. "We were always in control. The plan was to slow it down and they did a pretty good job of that."
The Bulldogs certainly did a good job of slowing the ruck down, a topic which drew the ire of Souths coach Wayne Bennett.
Bennett called on referees to pay more attention to the ruck but Burgess wasn't prepared to join the chorus calling for more penalties.
"I think every team is trying to slow it down a little bit. Players, teams, coaches, theyre all pretty smart these days," he said. "They find ways to manipulate things and I kind of like the way the refs have been doing the job this year.
"We are seeing fewer penalties, which has been good, I feel.
"Sometimes I think there could have been a few more blown on the weekend but at the end of the day, it didnt really cost anyone or have a huge influence on theRead More – Source
[contf] [contfnew]
[contfnewc] [contfnewc]