Sports
Wade, Nowitzki drop 30 in home finales, Creek gets NBA minutes
Dwyane Wade and Dirk Nowitzki, playing the final home NBA game of their storied careers, have each scored 30 points to lead the Miami Heat and Dallas Mavericks respectively to victory.
With wife Gabrielle Union courtside, Wade made 10 of 23 shots, including four three-pointers, as the Heat outclassed the Philadelphia 76ers 122-99.
It was a bittersweet night for the Heat (39-42), who were eliminated from playoff contention earlier in the evening when the Detroit Pistons rallied from a 22-point deficit to defeat the Memphis Grizzlies 100-93.
Wade, 37, will end his career on Thursday (AEST) at the Brooklyn Nets.
Advertisement
German Nowitzki, meanwhile, turned back the clock to lead the scoring for the Mavericks as they defeated the hapless Phoenix Suns 120-109.
The 14-time All-Star and 21-season veteran took the first eight Dallas shots and scored his teams first 10 points in the first three minutes. He passed his previous season high of 21 on a three-pointer in the third quarter.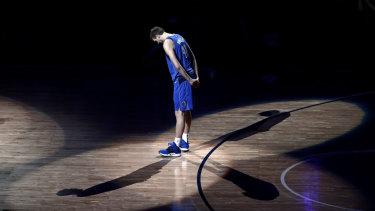 Dallas season finale and Nowitzkis career-ender is against San Antonio – a fact he only confirmed to the crowd post-match.
"As you might expect, this is my last home game," the 40-year-old said.
Philadelphia (50-31), who already clinched the third seed in the eastern conference playoffs, rested two of their stars in Joel Embiid and JJ Redick.
Australian Ben Simmons earned 16 points and four rebounds in reduced minutes, while Jonah Bolden failed to score in his 13 minutes.
Elsewhere, Golden State Warriors guard Stephen Curry left his side's 112-103 win over the New Orleans Pelicans with a sprained right foot.
Curry sustained the non-contact injury when he rolled his foot and ankle while dribbling near the three-point line and immediately fell.
The Warriors nevertheless won the game, despite the absence of Kevin Durant, Klay Thompson, Andre Iguodala and Aussie Andrew Bogut.
They had already secured top seed in the western conference.