Sports
Make it rain: Kia Nurse returns to the Canberra Capitals
Canberra Capitals fans rejoice – Kia Nurse is back to make it rain.
Kia Nurse has re-signed with the Canberra Capitals for the 2019-20 WNBL season in a huge boost to the club's bid to win back-to-back titles.
The prospect of playing in Europe was always in the back of her mind but the Capitals were quietly confident about their chances of luring Nurse back to Canberra.
The 23-year-old will fill one of two import spots on Canberra's roster and Capitals coach Paul Goriss expects she is only going to get better – a fair statement considering she finished seventh in the league's most valuable player voting.
Advertisement
"Its exciting for us to have someone back who I think has global appeal. Everyone knows who Kia Nurse is, whether youre in USA, Europe or Australia," Goriss said.
"Its great for us as the Capitals and the WNBL to get a player of her calibre that wants to come back and play in the WNBL, and wants to come back and play for Canberra.
"I did hear just about every team had interest in recruiting her for next season, so we did some things right because she wanted to come back and play here and not anywhere else.
"The way she played in the playoffs, she increased her three-point percentage and increased her points per game all over that finals, you just know how lethal a shooter she is and how competitive she is.
"She is only going to get better and that showed during the playoff run, how great she is and she is still only 23."
The chance to play in a less taxing environment like the WNBL heading into an Olympic Games year was a major factor in Nurse's decision to re-sign, much like it was for Capitals centre Marianna Tolo.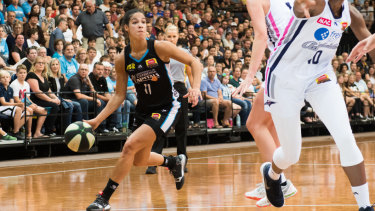 "I was very unsure about coming back. I wanted to explore all of my options. Im glad to have won a championship but after discussions with my agent and family we decided this was the place to be," Nurse said.
"I thought Canberra was a great fit and it would be an advantage to know what I was getting into next year. Its also beneficial that the season is easier on the body than others especially going into an Olympic year.
"I had a great experience last year so Im looking forward to seeing all the fans again and having a
great season. I truly enjoyed my first season overseas."
Nurse will link up with the New York Liberty for the upcoming WNBA season, with their progress set to dictatRead More – Source
[contf] [contfnew]
[contfnewc] [contfnewc]