Dubai: It's been a long and winding road to the Asian Cup for Nazmi Albadawi and Yashir Islame, two players whose contrasting journeys prove how the sprawling, global Palestinian diaspora might have lost control of their homeland, but they will never lose touch with their roots.
The 'Lions of Caanan' have the most diverse dressing-room at the tournament. In amongst the Palestinian locals there's a Swede, a Slovenian, a few Chileans, an Argentinian, an American and an Algerian coach. But as Islame says, when they come together, they are one family.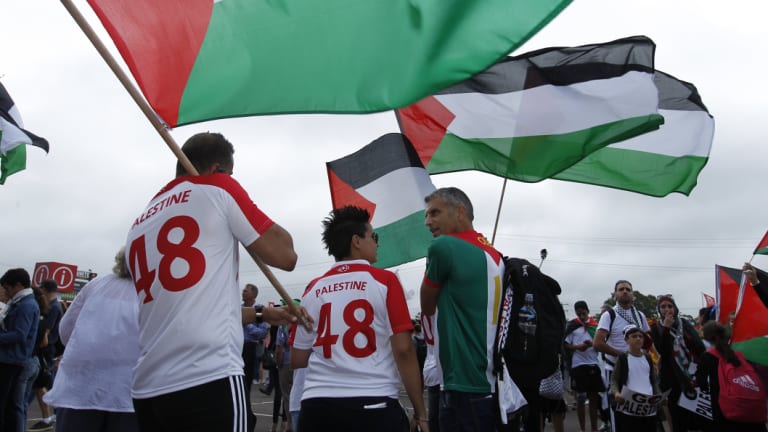 Only admitted as a FIFA member in 1998, Palestine are making incredible progress in football despite their eternal struggle as a stateless nation. Playing matches at home is naturally fraught with danger and the restrictions imposed on movement in and out of the West Bank and Gaza Strip means bringing their best players together is never easy.
An increased focus on the 'recruitment' of players with Palestinian ancestry was the key to assembling a talented squad for their second consecutive Asian Cup. But after they were cast as the feel-good story at the 2015 tournament in Australia, Albadawi and Islame are no longer content with Palestine just making up the numbers.
Advertisement
Albadawi was born and raised in Raleigh, North Carolina to Palestinian parents. His mother Raja and father Nidal have never set foot in their homeland. All of his grandparents fled Palestine for Kuwait at the start of the Arab-Israeli war in 1948. When Iraq invaded Kuwait in 1990, they uprooted again to the United States.
My family has the culture from Chile but we follow the cause of Palestine. Football is a very important part of this cause.

Palestinian international forward Yashir Islame
There is a small but passionate community of Palestinians in Raleigh, which allowed Albadawi – an Arabic speaker – to stay close to his heritage growing up. But when he initially told his parents he wanted to represent their country, they were horrified.
"They reached out to me a little while ago, like three or four years ago to see if I was interested," Albadawi said. "At the time, to be honest, my mum wasn't even hearing of it. She didn't want to risk my safety.
"But then after I went and after how much I loved it and how well I did and everything – it was really safe, there was nothing to worry about, nothing really to fear. Now her and my dad want to go too, they want to see it as well."
It proved a fruitful trip for Albadawi, a former teammate and childhood friend of Melbourne City defender Harrison Delbridge who has signed a deal with incoming MLS franchise FC Cincinnatti. He made his debut off the bench against Pakistan in November, scoring the winner to seal a 2-1 victory in Al-Ram.
Albadawi's parents have followed him to the UAE to watch him play. "Mum almost started crying when she saw the Palestinian crowd at the first game because of all the passion and seeing all your people and everything," he said.
Islame, too, has Australian connections. The former Chilean youth international played a season under ex-Melbourne Victory coach Mehmet Durakovic in Malaysia and counts former A-League star Marcos Flores, an old teammate, as a close friend.
The 27-year-old's ties to Palestine are not as recent as Albadawi's, although they no less meaningful, and he speaks Spanish and English but not Arabic. Islame's maternal grandfather left Palestine when he was a child for Chile, which is home to the largest Palestinian community outside the Arab world.
Their contribution to Chilean football lives on through top-division club CD Palestino, which was founded by Palestinian immigrants, and players like Islame, who was signed to a team in Hungary in 2015 when he received a message on LinkedIn from the Palestine Football Association asking him to represent them.
"It was the most important decision of my life," said Islame, who changed the order of his surnames by court order last year to give prominence to the one he said he identified with most strongly.
"My family has the culture from Chile but we follow the cause of Palestine. Football is a very important part of this cause. If we do a good job here, everybody will know that Palestine is here and the Palestinians fight every day."
So far, so good. By holding Syria to a scoreless draw with 10 men in their first match at the Asian Cup, Palestine earned their first ever point at the tournament. Next up it's the Socceroos, and Albadawi is hopeful they can produce another inspirational performance for their people.
"We know they'll come out flying because they have to get a result, they can't afford anything else," Albadawi said.
"They need this probably more than we do to be honest. But I think that kind of works in our favour as well because if they come out and really try to go for a result and provide some gaps in the game … you never know what's going to happen."
Vince is a sports reporter for The Sydney Morning Herald.
Most Viewed in Sport