Sports
Line-in-the-sand moment for captain Paine after drought-breaking win
Australia captain Tim Paine has declared he will not allow India counterpart Virat Kohli to "walk all over" his side, despite the microscope on the side's conduct, after the hosts levelled the series with an emphatic win in the second Test.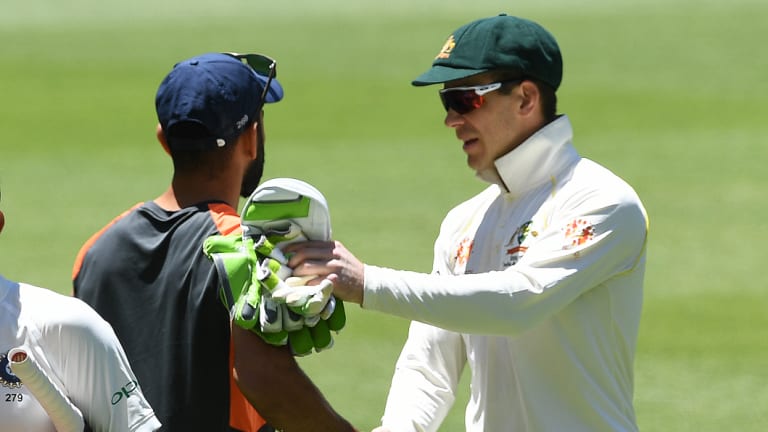 While both teams are on the same wavelength as to the terms of engagement for any verbal warfare, tension is building as the fight for the Border-Gavaskar Trophy intensified heading into what looms as a blockbuster Boxing Day Test in Melbourne.
The two captains shared a far from warm handshake after the game, with Paine later confirming the teams would wait until after the series in Sydney to mix in the rooms.
After months of retrospection over Australia's cricket identity, Paine's men turned up the aggression as they claimed their first win in seven Tests.
Advertisement
Kohli claimed pre-series he no longer needed to engage in an argument to get into the contest but his on-field conduct in Perth suggested otherwise.
The Australians were not anticipating Kohli would keep his word but were bemused by what they saw as a double standard being applied to the superstar batsmen.
Paine had decided enough is enough by standing up to Kohli's argy-bargy, be it while behind the stumps or at the crease.
"At times you have got to draw a line and start sticking up for yourself and sticking up for your teammates," Paine said.
"We are really passionate about playing for Australia and we are certainly not going to sit back and be walked all over. Sometimes those things happen and you have to get involved.
"Was it a decision as a captain to try and assert myself on the game? No. It was just two competitive cricketers trying to do their best to win the game."
Paine, who had delivered a cutting sledge to Kohli via the stump microphone on Sunday, would not be drawn on his opposing captain's conduct but praised his team's on-field behaviour.
"It's probably a question he will have to answer," Paine said. "What I will say is that he I was really proud of the way our team conducted themselves on the field this week. I was really happy with the competitive, hard style of cricket we played.
"We speak a lot as a group of playing on skill and not emotion and for us that is really important. We know our best cricket is played when we put emotion aside, or most of it, and just concentrate on skill.
"Having said that there are times when you have to get involved, you have to stick up for your mates and I think we are finding a really good balance in that sense.
"Im really happy with the way we are going about it. Its my role as captain to make sure we are staying on track, we know what works for this team, for me it is about making sure we keep going down that path."
Having been widely criticised for their use of the mythical "line" as the gauge for their behaviour, the Australians say they are clear as to what is acceptable.
"It's the nature of it and the language. What is said is important, not how much," Paine said.
Kohli attempted to downplay his clashes with Paine, dismissing them as "irrelevant", but said there was room for banter in Test cricket.
"As long as there is no swearing out there on the field and there is no personal attacks, the line doesnt get crossed," Kohli said.
"There is banter going on. Even at Adelaide there was banter here and there. It's Test cricket at the end of the day, it has to be competitive.
"You can't say that people arent going to try and get you out in any way possible at all."
Andrew Wu writes on cricket and AFL for The Sydney Morning Herald
Most Viewed in Sport
[contf] [contfnew]
[contfnewc] [contfnewc]