The misfiring Newcastle Jets will be without marquee midfielder Ronny Vargas for the home match against Brisbane on Sunday as the fall-out from striker Roy O'Donovan's infamous send-off in last season's grand final continues to dog the club.
Coach Ernie Merrick was without four strikers for the 3-0 loss to Melbourne last week and was forced to play Vargas at the point of the attack. The physical toll of the unaccustomed role has left the skillful Venezuelan No.10 with a groin problem.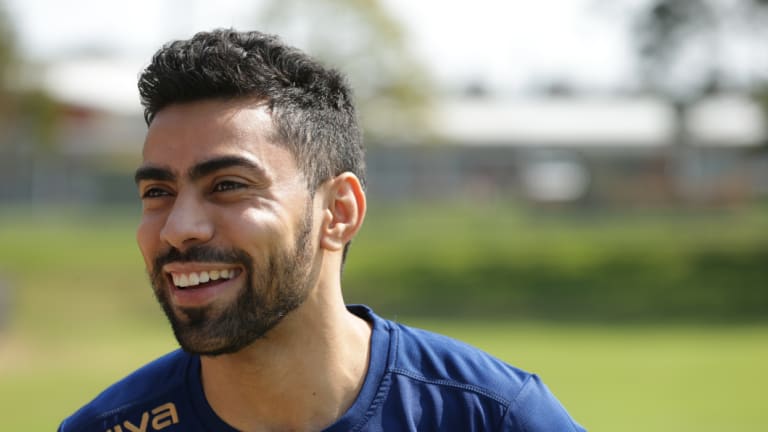 O'Donovan's goal rush in the early rounds last season provided the momentum for their fairytale run to the grand final. But his send-off and subsequent 10-match suspension for a kick to the head of Victory goalkeeper Lawrence Thomas in the closing moments of the 1-0 loss has had the opposite effect this season.
The Jets have scored just five goals – two of them to Vargas – as they struggle to overcome O'Donovan's absence and a run of injuries to their remaining strikers.
Advertisement
Brazilian signing Jair missed the loss to City after pulling up sore from the substandard pitch at Spotless Stadium when the Jets beat Wanderers 2-0 the week before.
Without Jair and the injured Joey Champness, Kaine Sheppard and Mitch Austin, Merrick pushed Vargas higher up the pitch.
Merrick has all but ruled out Vargas from the match.
"He's not looking good but you never know what can happen on match day," Merrick said.
On the positive side, Jair looks like returning along with Englishman Sheppard.
"I think this team will score goals," Merrick said. "It helps that we've got a couple of games at home and it helps that we have a couple of strikers — Jair, Kane Sheppard — back again.
"Jair looks like he's going to be OK. We ran him hard through the week. It's a case of how he turns up."
Jair had physio treatment rather than training on Friday in an effort to ensure he is fit to play on Sunday.
Austin will likely play in the youth side against the Wanderers as he continues his long recovery from an ACL injury.
"I don't want him back on the pitch until he's 100 per cent because when these boys come back from an ACL injury, sometimes they come back too early," Merrick said.
O'Donovan still has two games to go on his suspension.
At the other end of the park, defender Lachlan Jackson is out with a broken nose.
Merrick said he had no desire to return Jason Hoffman to the defensive position in which he has played most of his professional career.
Hoffman's form in front of goal since being returned to the striking role by Merrick has been one of the highlights for the Jets.
Merrick said that Hoffman had been "reinvented as a striker".
"Jason used to play as a striker when he was a youngster," Merrick said. "I'll continue as much as possible to play him as a striker. Sometimes he'll be central if we need him to be and sometimes he'll be wide, and I think he'll score goals."
Ex-Jets striker and former A-League Golden Boot Adam Taggart has scored as many goals by himself as his former club but the Roar talisman is also racing to be fit.
Given Alex Lopez and Henrique are the only other Brisbane players to find the back of the net this season, its understandable Roar coach John Aloisi is giving Taggart until kick-off to prove his fitness.
We have to make sure if he is going to go out there and play that hes not going to re-injure himself, Aloisi said. Hes pulling up nicely. Its very minor. Theres something there but its not major at all.
Theres better news for French winger Eric Bautheac, who has recovered well from a knee knock in last weeks fiery 2-1 loss to Adelaide United and is expected to play.
Nick is a journalist for The Sydney Morning Herald.
Most Viewed in Sport
[contf] [contfnew]
[contfnewc] [contfnewc]