Theyre brown, ugly fish with a head only a mother could love, but big dusky flathead remain a perennial favourite among anglers.
I personally love chasing trophy estuary flatties. They hit hard, fight doggedly and are a challenge to land on light gear.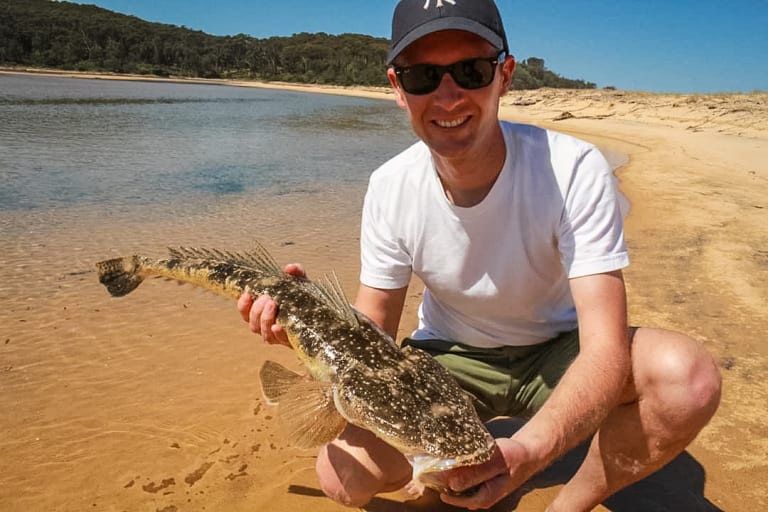 And they grow big. While they are reported to reach 130cm in length, any fish over 90cm is exceptional.
Metre-long flatties are the holy grail, but they are few and far between. You could fish the south coast estuaries your entire life and never come across a dusky over the magic 100cm mark.
Advertisement
Its the season for trophy duskies, with increasing numbers of fish over 70cm – and even a few between 80cm and 90cm – showing up in the coastal creeks, rivers and lakes.
If youre keen to tangle with one, between now and the Christmas holidays is probably your best bet.
As soon as hordes of holidaymakers start hitting the south coast waterways, large duskies become harder to catch.
Soft plastics, hard bodied divers and surface lures are all effective. If I had to pick a technique, Id go for a 120mm soft plastic rigged on a quarter ounce jig-head and fished in 1.5 to four metres of water.
So far this season, all the popular trophy flathead haunts – Wagonga Inlet, Tuross Lake, Merimbula Lake, Wallaga Lake, the Clyde and Moruya rivers and St Georges Basin – have yielded big lizards.
Dont overlook the smaller systems, though. You can catch the flathead of a lifetime in knee-deep water!
Speaking of the shallows, theyre fishing extremely well for surface feeding bream and whiting. Bassday Sugapens, Luckycraft Sammys and NW Pencils have been the best surface lures.
Try water less than a metre deep over the top of the tide. The Moruya and Tuross rivers have been hotspots.
Seas have calmed down enough to allow bluewater anglers to venture wide in search of yellowfin tuna – and a handful have been caught.
The vast majority have come in deep water wide of Bermagui and Tathra. These fish are mostly between 10 and 30kg. The best Ive heard of lately weighed about 70kg and was boated more than 20km off Bermagui.
Kingfish continue to bite off Tathra Wharf and, with the inshore water warming up to around 19 degrees, they look set to stay.
Some of these fish are absolute beasts around 20kg, so relatively heavy tackle is required.
Montague Island is producing small rat kings under the 65cm legal size.
Murray cod season has opened, but reports have been a little scarce at this early stage.
Hopefully this column will be able to provide more of an update next week as local fishos start stumbling across a few green fish.
Golden perch remain active, with solid fish taken from Lake Burley Griffin, Lake Tuggeranong and Googong Dam.
Drought conditions mean all three lakes are fairly clear for this time of the year – ideal circumstances to work a diving lure, vibe or spinnerbait.
Most Viewed in Sport
[contf] [contfnew]
[contfnewc] [contfnewc]