Sports
Defending champion rallies to beat mate Leishman in Australian PGA
Cameron Smith has tamed the early nerves before ousting good mate Marc Leishman to defend his Australian PGA Championship, immediately setting his sights on the worlds top 20.
The Brisbane talent overcame a wonky start to shoot a fourth-round 70 to finish at 16-under-par and beat Leishman (69) by two strokes in yesterdays shootout at Royal Pines.
Smith looked dead and buried on the 12th but held his nerve to spoil Leishmans best chance of a maiden win on home soil.
The win should propel him into the top 30 for the first time and give the 25-year-old confidence when he returns to the PGA Tour.
Advertisement
Id love to get into the top 20 … thats definitely the next big step to get myself in there and get myself in situations to win golf tournaments, he said in reference to his winless season in the United States.
I did feel for Leish; its always hard going up against a mate and trying to win a golf tournament.
Its a weird one, but Im sure well have a beer over Christmas or when I see him next and well be back to being mates.
Smith started the day three clear but after Leishman chipped in on the fourth, he was suddenly behind and, by the 12th hole, faced a two-shot deficit.
But his luck turned when Leishmans par putt on the 14th horseshoed out and drew the pair level.
Smith retained the lead on an eventful 15th hole where he missed another fairway and put his second shot into the 16th hole signage.
Taking a free drop from the tee box of the party hole par-3, Smith put his chip within a metre and putted out for birdie.
Leishman missed his birdie effort after a regulation approach to the green and then misread another mid-range par putt on the 16th to hand Smith a decisive two-shot buffer with two holes to play.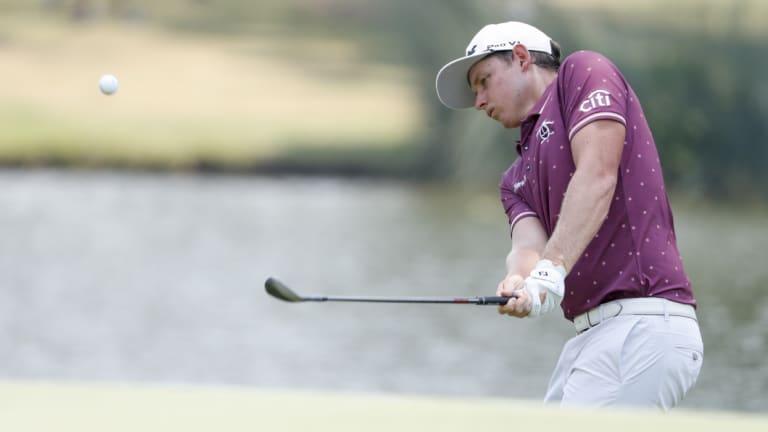 Leishman tipped his cap to his junior World Cup teammate but was clearly miffed despite claiming it would only take 20 minutes to move on. I was leading by a couple [in Boston] going into the back nine and lost that. That one really hurt, but this probably equally if not more than that, he said.
Youve got to handle those things, make the most of the momentum when its going your way and try to keep it your way. I had it and lost it, unfortunately.
Smith is the first player since Robert Allenby in 2001 to win consecutive Australian PGA titles. Greg Norman (1984-85) and Ken Nagle (1958-59) are among the few others to have achieved the feat.
Matt Millar carded a four-under 68 to finish third alongside English bolter Ross McGowan (11 under), who came from last on the cut line after shooting a course record nine-under 63 with nine birdies.
LEADERBOARD
– 16 Cameron Smith 70, 65, 67
– 14 Marc Leishman 68, 68, 69
– 11 Matthew Miller 72, 70, 67
Ross McGowan (Eng) 71, 73, 70, 63
– 7 Jae-Woong Eom (Kor) 67, 74, 70, 70
– 6 Jason Scrivener 68, 73, 74, 67
Ben Eccles 70, 71, 69, 72
Nick Flanagan 69, 73, 69, 71
– 5 Sean Crocker (US) 73, 71, 71, 68
Jarryd Felton 69, 73, 72, 69
Nick Taylor (Can) 74, 68, 70, 71
Darren Beck 73, 71, 69, 70
Tom Murray (Eng) 69, 73, 71, 70
Andrew Johnston (Eng) 70, 69, 73, 71
Daniel Gale 70, 74, 69, 70
Australian unless otherwise stated

AAP
Most Viewed in Sport
[contf] [contfnew]
[contfnewc] [contfnewc]