Sports
Bitter end: After ignoring phone, Bennett was sacked by voicemail
After 25 seasons, six premierships, countless highlights and being a foundation stone of the game's benchmark club, Wayne Bennett was sacked via voicemail. And an email for good measure. With the axe poised above his head, he refused to answer his phone.
Nobody at the Broncos had reached Bennett by the time of Sunday afternoon's extraordinary press conference at Red Hill, in which the club's chief executive Paul White and its chairman Karl Morris confirmed the news that Bennett's contract for the 2019 season had been terminated.
It signalled the end of a prolonged, messy, damaging affair that spanned two cities, two coaches and a pair of clubs that were taking shrapnel as a new shell seemed to burst every day. On Monday, Anthony Seibold will be in Brisbane, with Bennett preparing for his move to Redfern.
White was emotional as he read from a prepared statement before answering questions about Bennett's demise as Brisbane coach. The pair go back three decades and their friendship would become collateral damage to a soap opera that threatened to play out for the entirety of the 2019 season.
Advertisement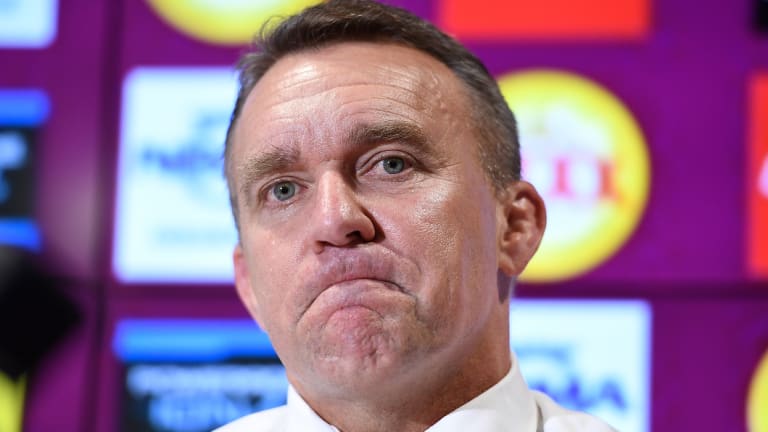 But with fresh details appearing in the Sunday newspapers, in which an email from Seibold revealed Bennett had been actively involved in pre-season decisions at Redfern before he decided to do a last-gasp about-face and try to stay in Brisbane, something had to give.
High-level discussions had already been taking place with Brisbane's majority owner, News Corp, before the edict was sent down for the trigger to finally be pulled. Bennett would be sacked, effectively immediately, and the fabled coach swap could become a reality at last.
"Wayne Bennetts 2019 contract as coach of the Brisbane Broncos was ended, the terms of which will remain confidential," White said. "It was unfortunate that the relationship between this club and Wayne Bennett came to this. We have always held Wayne Bennett in the highest regard.
"The fact is that some relationships change over time. The relationship between Wayne and the Broncos has changed to the point that its no longer workable. I understand this is not ideal. Its not planned but this the reality.
"Clubs are many things but at their heart football clubs are built on members and supporters. Our members and supporters expect that we will field a team in round one of 2019 that has the best chance of winning a premiership."
And on attempting to deliver the news: "I didnt have the opportunity to speak to him this afternoon. I made multiple phone calls and I unfortunately had to communicate that decision via voice message and over email," White said.
"You might ask was that disappointing? Yes, it was. But such was the nature of this whole issue that it was important that we had it resolved, particularly before the players returned tomorrow [Monday]. I wasnt in a position to speak to him directly."
It is understood Bennett had a financial component to his termination but his entire contract was not going to be paid out. Morris said that would remain commercial-in-confidence and refused to elaborate, although given Brisbane are a listed entity more details may appear in the next annual report.
The events of last Friday shook the Broncos. Both Souths and Brisbane expected Bennett to confirm he was leaving in time to coach Souths next season. Instead, he made a new commitment to the club before holding a press conference, which both White and Morris said they knew little about.
"We believe that the discussion that Souths were having with Wayne and Karl at the point where a swap of coaches could be agreed to… we expected that to happen last Friday," White said.
"The events of last Friday were quite unfortunate. We were unaware that Wayne was going to attend training that day, we were certainly unaware there was going to be a press conference held that day and we werent informed were that was going to be held or what the details were.
"From our position, our game is based on teamwork. We were disappointed with the way that played out. Wayne held the press conference, he reinforced that he wanted to be with us in 2019. We took some time over the past couple of days to consider our total position and on that basis, we arrived at the decision we have today."
There were rumours at Red Hill that a delegation of players had fronted White and demanded some clarity around their coach for next season. White denied that, saying the club's executive were responsible for the call and would endure any repercussions.
"Player? No. This decision needs to be made by the CEO, by the board and we need to take accountability and responsibility and we will. The players are there to play footy. Our job is to give them the best opportunity, the best facilities, the best possible chance to have success.
"There is no doubt that weighed heavily on our decision. We had considered the preparation and bringing a new coach in and what that would mean. But the two decisions are independent of each other… who comes after Wayne is seperate to our decision today to end Waynes services for 2019."
For all of the egos and politics and dollars that were prolonging the saga, in the end much of it came down to the football. The Broncos were taking damage from the ugly spat but it would have paled in comparison to the backlash should the uncertainty have plunged their 2019 into disaster.
South Sydney can now do the same after confirming Bennett as their head coach in 2019. The clubs will first meet in round eight at ANZ Stadium.
"Players need clarity. They need consistency. I guess we couldnt afford to go through another week of what we went through last week, let alone the remainder of the pre-season. The decision gives us the ability to move forward," White said.
"Rugby league is now a game of small margins. You need luck but you must have the best preparation possible. Due to the events of recent weeks, some of which have been made public and some which will not be, Wayne Bennett is now not the best person to lead our club as coach."
In a statement from Souths, Bennett said he headed to Sydney with a clear mind and even clearer conscience: "I'm really pleased it's all resolved and that I can join this great club with a free mind, knowing I did the right thing by the fans, staff and players."
For most of Brisbane's history, a club in which Bennett became royalty years ago, it would have been unfathomable for a CEO to say Bennett was the worst person to lead the team into an NRL season.
But such has been the poisoning of the well at Red Hill that he departs as a polarising figure that has sparked a deep chasm between fans, sponsors, members and its former greats.
Sports reporter
Most Viewed in Sport
[contf] [contfnew]
[contfnewc] [contfnewc]