Sports
Holmes turns to former Sharks trainer Elkin ahead of NFL bid
Valentine Holmes has turned to former Cronulla strength and conditioning coach Trent Elkin to prepare him physically for his tilt at an NFL contract.
Holmes management is in the process of putting together a team of local experts to get him in top shape before he heads to the IMG Academy in Florida in January. The next six weeks are viewed as crucial as Holmes prepares to compete with American NFL aspirants who have played gridiron their entire lives.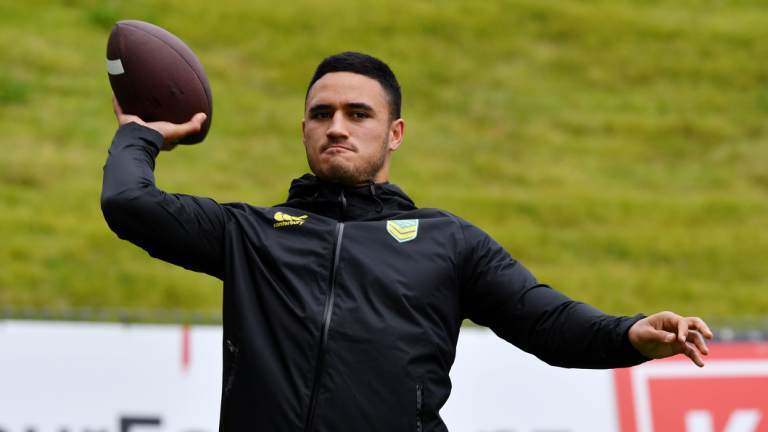 Elkin has been hand-picked to oversee the Queensland and Australian stars strength and speed development. The physical performance coach copped an indefinite NRL ban for his role in the Sharks supplement saga in 2011, a suspension he successfully appealed against three years later. Team Holmes has also approached Peter Upham, the coach of the Sutherland Seahawks gridiron team, to assist with skills development.
Upham, who also oversees the Shire Speed and Strength gym, will sit down with Elkin this week to plot Holmes preparations before he heads to the States.
Advertisement
"Theyve hired Trent Elkin to start preparing him physically," Upham said. "Ive got a meeting with Trent to discuss training times, when hes available and whatnot. Ive basically sketched a basic idea of all of the contests of what he will have to go through.
"(Holmes) needs to understand the movement concepts, working on stance and stance release, how to release from the line, run-blocking skills, catching skills.
"He is going to have to get used to wearing wearing equipment, which is another thing. Even if he just did that, that would be of tremendous benefit. The experience of wearing a helmet and having your vision broken down a bit, thats an important adaptation to gain.
"Then theres just running around, fielding high balls, they are things to work on. The next thing would be hearing and being to interpret language that hes got to be familiar with. Theres also basic concepts in the passing game, so we can build some awareness in that respect. Theres a bit to do."
Upham believes at this point in his NFL education, Holmes will have to spend one hour in the film room for every 30 minutes he spends on the field. Once the former Sharks fullback becomes comfortable with the basics, Upham may ask some of his Seahawks players to help simulate game-day scenarios.
"His production is very well known, he has great evasive maneuverability and hes obviously very athletic. It will come down to the finer detail stuff," Upham said.
"His learning attitude will be a big thing, how quickly he picks up skills and has an interest in pushing through some challenges. Having made this decision he probably has some attraction to it, is a fan of the sport and has ideas about what he will actually have to do.
"Introducing those drills and repetitions might be boring for (a seasoned player), but could be interesting to him. That could be an advantage, the mundane to somebody like him may be quite exciting."
Holmes motivation to switch codes isnt financial. The 23 year old could have earned $5 million over the next five years if he had accepted a lucrative contract extension from the Sharks. Instead, he will risk it all in the hope of earning an NFL contract in a slot receiver or kick returner role.
"As a kick returner he brings to the table some advantages," Upham said. "Contesting balls in the air is specialised skill, its not a huge part of the game but big enough to be important."
Cronulla is set to replace Holmes with Kiwis halfback Shaun Johnson. The Sharks have tabled an offer to the released Warrior and are hopeful it will be accepted by the end of the week.
Adrian Proszenko is the Chief Rugby League Reporter for the Sydney Morning Herald.
Most Viewed in Sport
[contf] [contfnew]
[contfnewc] [contfnewc]