Sports
Canberra Capitals guard writes victory lyrics for WNBL title bid
Elizajane Loader came to Canberra to chase a basketball dream. The last thing she expected was to become the Canberra Capitals' songwriter, although it could prove just as important as her on-court role.
The little-known Capitals guard is already one of the most popular players in the team, despite having limited involvement in games so for this season.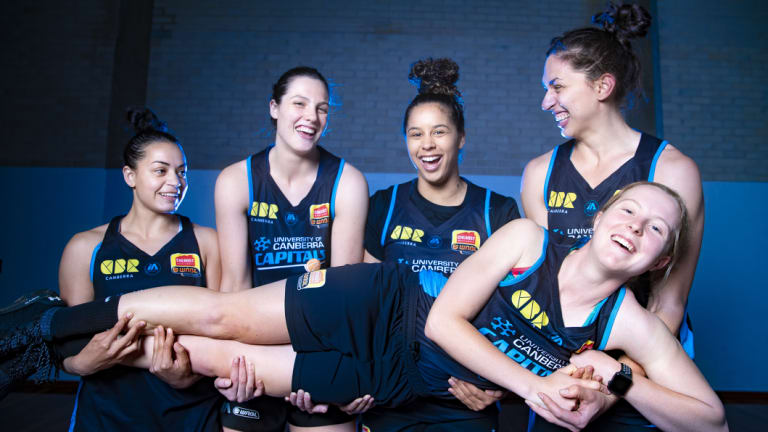 Loader is finding different ways to have an impact on the Capitals as she patiently waits for a WNBL opportunity, jumping up to scream support for her teammates and shedding eight kilograms to become fitter.
Her biggest influence so far has been writing the lyrics for a post-win team song, created at the request of coach Paul Goriss in a bid to galvanise the squad trying to rebuild the Capitals into a championship powerhouse.
Advertisement
"I mean, definitely when I go to karaoke I'm a rapper," Loader joked. "But no, [songwriting] is not a career path for me.
"We spoke about who we want to be and the identity of the Canberra Caps. Our assistant coach, Carly Wilson, spoke about the legacy and what do we want the Capitals to signify in the community.
"Our top three things were being professional, being tough and being together. So I wanted to try to include that in the team song, so I used that and this season is all about go big and the rebuild.
"There is a new foundation of pride. It was fun to write, because you think about the team and individual aspects. This is our identity on paper."
The story of the team song is a symbol for the revitalised Capitals, who are chasing top spot on the ladder when they play the dangerous Perth Lynx in Perth on Friday night.
Goriss wanted a way to bring the group together and says Loader's song is having the desired effect, even if the players are still reading Loader's lyrics off their mobile phones after wins.
"I wanted to bring in something different we haven't done before … it's that footy song vibe after a win in the change rooms. I said they could steal someone's song, or come up with something original," Goriss said.
"The first couple of weeks the singing wasn't great, but it's getting better and now I can actually make out what they're trying to say. The basketball is getting better and so is the singing.
"This could be the Caps' team song for the future. It will be interesting to see how this goes in the history of the Capitals."
Loader, better known as her childhood nickname of "Muffi", won't be with the Capitals for their tough double-game road trip to Perth and Adelaide this weekend.
Her role as a development player means she moves in and out of the travelling squad and she has played just a handful of minutes in the eight games of the campaign so far.
The story of her job as a "benchie" in the team is rarely told, especially given the Capitals boast star power in Marianna Tolo, Leilani Mitchell, Kelsey Griffin, Kia Nurse and Kelly Wilson.
But that doesn't make it any less important. Goriss has been blown away by Loader's dedication to training despite the limited game time. When told she wasn't travelling to Perth and Adelaide, Loader asked Goriss to give her extra individual training sessions to continue her development.
"She was prepared to come here for basically zero money and she's done a terrific job. She's got the quirky personality, and she brings a great vibe and energy to the group," Goriss said.
"She's team first. I'm sure she'd love to be out there, but the value of those bench players in what they bring really helps the starters and pushes them. She's getting better practising about Leilani, Kelly and Maddi Rocci."
The former Portland State college player grew up on the Central Coast and was playing in the NSW Waratah League when the Capitals offered her a chance to step into a WNBL program.
Loader jumped at the opportunity and has been so dedicated she has dropped almost 10 kilograms to prove she wants to be a competitor against the best players in the league.
"No one is bigger than the team, and we've bought into that. Being a development player, I'm not always going to travel, but you just want to be so invested in this team and whatever is best," Loader said.
"Being able to learn and watch the players we've got, to see what it takes to be a pro, I couldn't have asked for a better team."
WNBL ROUND EIGHT
Friday: Perth Lynx v Canberra Capitals at Bendat Basketball Centre, Perth, 9.30pm.
Sunday: Adelaide Lightning v Canberra Capitals at Adelaide, 3.30pm.
CAPITALS TEAM SONG
We're the UC Caps; And we say that with pride.
Together we stand; side by side.
We play for each other; we play to win.
With toughness and resilience; we'll never give in.
At home or away; we will be feared.
We're the UC Caps; the best team here.
Chris Dutton is the sports editor at The Canberra Times.
Most Viewed in Sport
[contf] [contfnew]
[contfnewc] [contfnewc]