Sports
The Virat Kohli numbers that could spell more trouble for Aussies
Australian coach Justin Langer admits Virat Kohli's recent numbers have been ''mind-blowing'', and his only hope at the end of the summer is the Indian megastar respects his side for having a dig.
To prove how devastating Kohli has been this calendar year, his numbers more than stack up against the seven Australian batsmen vying for six spots ahead of next Thursday's opening Test in Adelaide.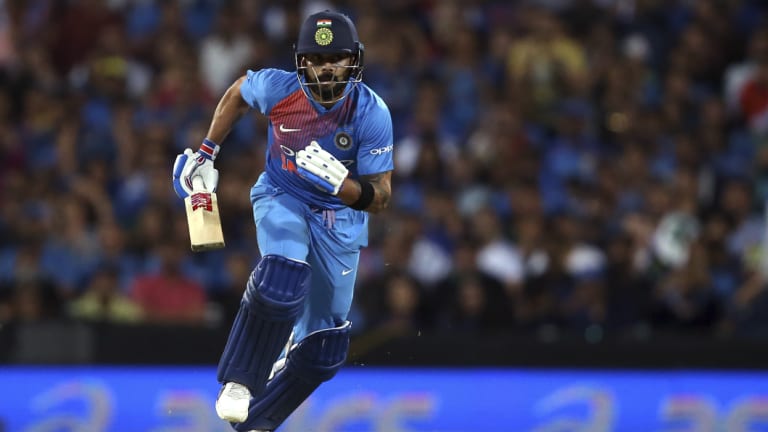 The last time Kohli stepped out in the City of Churches for a Test, he bagged a couple of centuries.
Cricket's biggest money-earner has amassed 1063 runs in 20 Tests since the start of the year at an average of 59.04.
Advertisement
Langer could only smile when asked how on earth his side could stop Kohli this summer, especially after witnessing him tonk an unbeaten 61 to lead India to a six-wicket T20 win on Sunday night, which sparked wild celebrations amongst the predominantly 37,000-strong fans.
"He's a superstar no doubt,'' Langer said.
"What my hope is at the end of the series is he really respects the Australian cricket team.
"The great players I played with, whether it was Steve Waugh or Allan Border or [Ricky] Ponting or [Matty] Hayden or [Glenn] McGrath or Shane Warne, Michael Clarke, all the great players, the ones they respected the most were the ones who made it hardest for them.
"And that's what we have to do. We have to respect what a great player he is.
"His numbers are mind-blowing. But if I have one hope at the end of this series, and [even though] there's a lot of talk about how we'll play our cricket – there are a lot of different views on that – but if the Indians sit there and go, 'wow, these guys have played really hard cricket against us', and they leave our shores respecting the Australian cricket team, then I think that's our best way to handle Kohli.''
He has scored four tons, which is the same number of centuries posted by our batsmen in a combined 26 Tests.
Usman Khawaja, Shaun and Mitchell Marsh, Travis Head, Aaron Finch and Peter Handscomb have scraped together an extra 453 runs than Kohli. Marcus Harris is yet to play a Test match.
What makes Kohli's numbers even more concerning is the fact he has arrived in Australia in red-hot form, including a Test century against the West Indies last month, which was followed up by three successive one-day tons.
England did their homework on him yet the little powerhouse still proved a handful.
The last time he was in town, Kohli smashed 692 runs in four Tests at an average of 86.5, including four centuries.
He continued his love affair on Australian soil last Sunday with his unbeaten T20 knock.
The nose that came from the stands was one of the best atmospheres witnessed at the historic venue in years – and sure to make India feel like the 'home' team come the Sydney Test.
As rain soaked the Sydney Cricket Ground and forced day one of their tour match against a CA XI to be abandoned, Kohli posted a photo to his 26.5 million Instagram fans of him hitting the gym with paceman Ishant Sharma and fellow batsman Murali Vijay.
Pat Cummins, Josh Hazlewood and Mitchell Starc are three of the best quicks in the world and will need to be just that to try and silence the 30-year-old.
Kohli plays the game with passion and often lets his emotions spill over, even to the point he last year all but labelled banned Aussie skipper a ''cheat''. However, there is a suggestion the bearded batsman has mellowed in recent times.
Test runs for the 2018 calendar year
Virat Kohli – 10 Tests, 1063 runs, four centuries, average: 59.04
Aaron Finch – 2 Tests, 181 runs, average: 45.25
Usman Khawaja – 7 Tests, 565 runs, two centuries, average: 47.08
Shaun Marsh – 7 Tests, 317 runs, one century, average: 24.38
Mitch Marsh- 7 Tests, 307 runs, one century, average: 23.61
Peter Handscomb – 1 Test, 24 runs, average: 12
Travis Head – 2 Tests, 122 runs, average 30.50
Australian top six total – 1516 runs, combined average 31.58
Christian covers rugby league for The Sydney Morning Herald.
Most Viewed in Sport
[contf] [contfnew]
[contfnewc] [contfnewc]