Sports
'Not going to win s–t': Clarke slams Australia's nice-guy attitude
Former captain Michael Clarke has warned Justin Langers team they will not have success if they abandon the uncompromising and aggressive style that has become synonymous with Australian sides.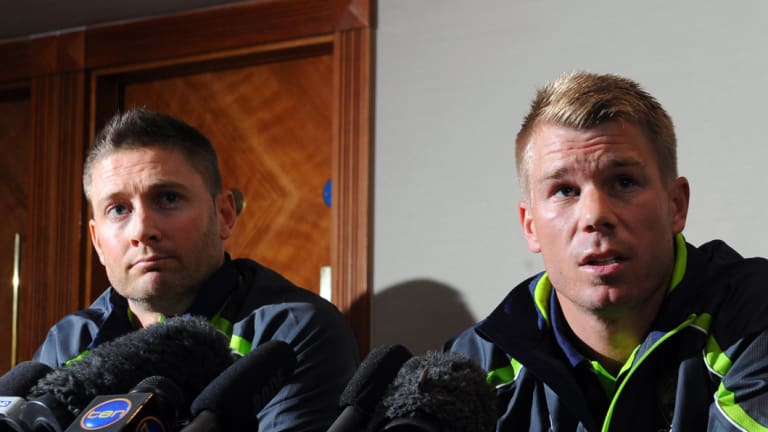 As Australias players work to clean up their on-field conduct in the wake of the ball tampering crisis, Clarke fired a broadside, saying were not going to win shit worrying about how others viewed them.
Clarke defended David Warners behaviour, saying Cricket Australia should be encouraging the pugnacious former vice-captains aggression rather than trying to curb it as it was a turn on for him to play better.
His fiery comments come at a time when Australias behaviour is being scrutinised like never before and with the team in the midst of one of its poorest runs after losing 18 of their past 26 games. With star batsmen Warner and Steve Smith unavailable, expectations are low for the summer.
Advertisement
As part of the review into the sport, Australias players developed a pact on how they wanted to play the game, urging the countrys disengaged fans to compete with us, smile with us, fight on with us, dream with us. The pledge was viewed with scorn in some quarters with Shane Warne and Michael Vaughan among the highest-profile ex-players deriding it.
Play tough Australian cricket. Whether we like it or not, thats in our blood.

Michael Clarke
The Australian team has also undertaken to make ceremonial gestures, such as shaking hands with the opposition before the start of each series.
Clarke is not happy with the direction the national team has taken.
Australian cricket, I think, needs to stop worry about being liked and start worrying about being respected, Clarke said on Macquarie Sports Radio. Play tough Australian cricket. Whether we like it or not, thats in our blood.
If you try and walk away from it, we might be the most liked team in the world, were not going to win shit. We wont win a game. Boys and girls want to win.
Clarke said he liked the aggression that Warner, who was the most outspoken of his players during his time as captain, brought to the team.
Its his style, hes very upfront, in your face. What you see with David Warner is what you get. Your greatest strength can be your greatest weakness. To me I always loved having him in the team I was captaining because he brought that aggression that I wanted. In saying that there was always a line, he knew that. We had a number of conversations one on one about that line he couldnt overstep.
Warner returned to his aggressive ways last summer in the Ashes and South Africa, where he was involved in an ugly confrontation with Quinton de Kock. He was later found by Cricket Australia investigators to be the architect of the ball tampering plot.
Though he did not name Smith, Clarke was critical of the former captains leadership, saying he needed to be able to rein in Warner.
There needs to be someone in that leadership, generally it should be your captain, that can control that, Clarke said. If that gets the best out of Warner, which I think it does, then you have to allow him to take it as far as you want and then say 'rightio, back you come, pull your head in, thats enough'."
Clarke said Warner and the team needed his aggression.
"He brings that positive approach to the Australian cricket team. You can't ask him to bring that and then on the other hand blame him or ask him to be a pussy cat when it comes to giving it," Clarke said.
"David Warner gives it to certain blokes on the field because he wants them to give it to him when he's batting. It's like a turn on, it makes him play better."
Andrew Wu writes on cricket and AFL for The Sydney Morning Herald
[contf] [contfnew]
[contfnewc] [contfnewc]