Two Canberra golfers. Two countries. Two objectives. Two shots. Too close.
While Matthew Millar shot a final-round four-under to finish equal fifth at the Australian Open in Sydney on Sunday, his fellow Canberran Brendan Jones went three-under to finish third in the Dunlop Phoenix Tournament in Japan.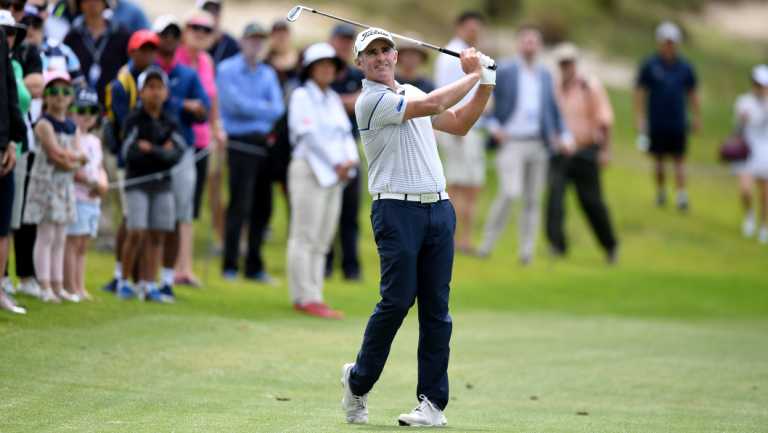 For Millar, victory was never really realistic, with Mexican Abraham Ancer cruising to victory, but his eight-under total not only meant a top-five finish, but put him in contention for a spot at the British Open next year.
A top-three finish would've seen him achieve that, with Millar just two shots off the third-placed Jake McLeod.
Advertisement
Millar felt 10-under would be the mark going into his final round, but he couldn't quite get there.
It still meant his best ever finish at an Australian Open, with 10th his previous best way back in 2003.
He felt the shouts of support from the Canberrans in the gallery played a role in helping him go low.
"Very happy with the result. A couple of shots better and maybe you're in the hunt for one of the British Open spots that comes from the top three," Millar said.
"That was sort of in my mind on the back nine. After I birdied 12 and 13 I thought, 'If you can rattle off two more here you'll be a good chance to possibly collect one of those spots at 10-under'.
"I thought that'd be about the mark. As it pans out it was. But nonetheless, still very happy with the result."
But he still has a chance for higher honours at the $1.5 million Australian PGA Championship on the Gold Coast in two weeks' time.
If he can climb to the top of the Australian order of merit, where he currently sits sixth and about $84,000 behind the leading McLeod, then he could gain entry to the British Open and three World Golf Championships events.
"It gives me a chance going into the PGA that I can still win the order of merit, or finish in the top couple and get some bonuses from that if I have a really good PGA as well," Millar said.
Meanwhile, Jones finished 13-under and two shots behind Dunlop Phoenix winner Kodai Ichihara, who come from nowhere with a final-round eight-under to pinch the title.
Jones had a four-foot putt on the last hole to put him in a tie for second with Mikumu Horikawa, who bogeyed the last to miss out on a play-off.
He has two more tournaments on the Japan Golf Tour before his year comes to an end.
"It was a good week for me. I missed about a four-footer for birdie on the last, which would've finished me tied second, but today really I played quite average, but managed to scrape it in," Jones said.
David Polkinghorne covers the Canberra Raiders, local rugby league, Canberra Cavalry, racing and cycling, along with every other sport, for The Canberra Times.