Sports
Don't throw them to the wolves: Nathan Lyon's warning
Nathan Lyon says it is too dangerous throwing NSW young guns Jason Sangha and Jack Edwards to the wolves of Test cricket too early ahead of an international shootout in Canberra on Friday.
Australia's greatest off-spinner will join the national side's three-pronged pace attack in NSW's squad against Queensland side boasting a trio of Test hopefuls in the Sheffield Shield at Manuka Oval this week.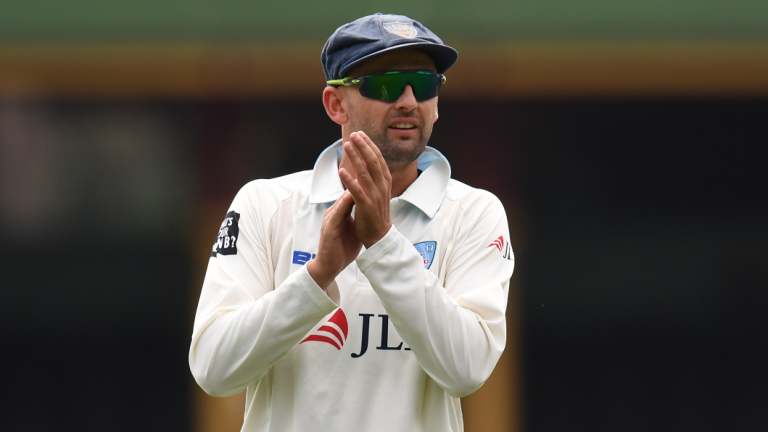 The insecurity of Australia's Test batting line-up adds further intrigue to Lyon, Mitchell Starc, Pat Cummins and Josh Hazlewood's battle against Queensland batsmen Matt Renshaw, Joe Burns and Marnus Labuschagne.
But Lyon says this clash should be considered anything but an international shootout for Sangha and Edwards despite their sudden rise to prominence following twin tons against Tasmania in their most recent Shield outing.
Advertisement
Edwards is just 18 with three first class caps to his name while 19-year-old Sangha has played just five first class games.
Before the question was even finished Lyon blurted out "no" when the pair of Blues prospects were mentioned as a chance to force their way into an Australian side desperately searching for answers this summer.
"I think its dangerous throwing young guys into a big Test series like this," Lyon said.
"Its really important for them to still learn their craft and learn their trade here at Shield level. Im very impressed with both Jack and Jason but lets see them score back to back hundreds and take a few wickets when the ball is in their hands.
"Its important we dont throw too many young guys into the international scene too early. I do think they would be able to handle it, but for the better of their career they would be better off if they learn their craft here first.
"Its pretty hard to learn your craft at the top of the tree, but in saying that Im a big fan of Sangha and Jack. Im all for them but I dont think they should be considered just yet."
While Sangha and Edwards still have some work to do before the faces of generation next become generation now, the era of Lyon and the group he dubs "the best bowling attack in the world" is in an unfamiliar place.
Australia's first-choice bowling quartet has been the one constant in the nation's Test XI after a captain was plucked out of the clutches of retirement and three top batsmen were banned for the infamous ball tampering saga.
Now they have the perfect dress rehearsal ahead of a bumper six-Test summer against India and Sri Lanka at Manuka Oval – the venue they will finish their summer at against Sri Lanka on February 1.
"We havent played a game together since the last Ashes Test, so to be back all firing together is exciting," Lyon said.
"Hopefully we come out here and put in a really good performance, all four of us, and really get that combination and partnerships working again, its going to be vital before the first Test match against India.
"I just spoke to [curator Brad van Dam] about the wicket and he said its going to hopefully be something similar to the Test wicket.
"Theres going to be a little bit more pace in the Test wicket he said, but its a great place to play cricket here and to come and experience a four-day game before a big Test match here in February.
"Its great to be out here and the bowling attack is going to be pretty excited. Hopefully there will be something in it early with the new ball but if youre good enough you can score runs, and if youre good enough hopefully you can get a bit of bounce and a bit of spin out there as well."
SHEFFIELD SHIELD
Friday-Monday: NSW Blues v Queensland Bulls at Manuka Oval, 10.30am.
Caden Helmers is a sports reporter for The Canberra Times