Sports
Canberra United vow to 'never repeat' costly collapse
Those who ignore history are doomed to repeat it.
Canberra United coach Heather Garriock has adopted this famous philosophical approach to their first road game of the season on Saturday.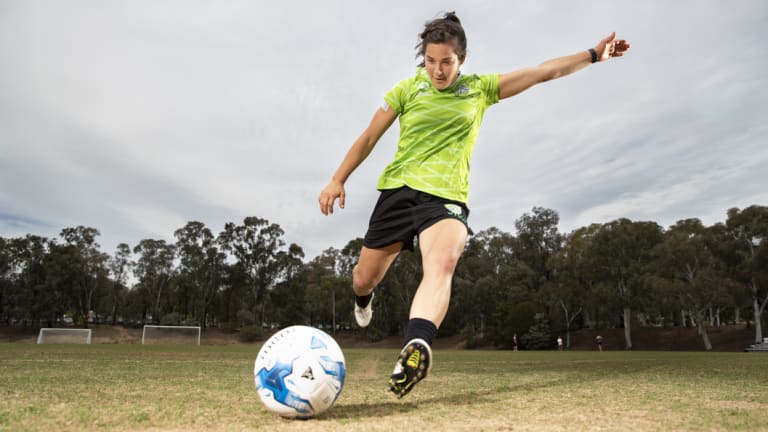 Canberra travel to Newcastle looking to bounce back from a draw they conceded very much felt like a loss against Perth Glory last round.
Perth were a player down but scored three goals in the final eight minutes to deny Canberra back-to-back wins to open their W-League season.
Advertisement
Plenty of coaches don't address such nightmares and immediately move on to the next game. But not Garriock.
The second-year coach ensured there were "very open and honest" conversations in the wake of the draw to ensure the colossal collapse is never repeated.
"If it doesn't get addressed then you sweep it under the carpet and its going to happen again," Garriock said.
"Its absolutely been addressed, weve learnt from it, weve all been very open and honest with one another, players and coaching staff, and that wont ever happen again.
"We played a great 90 minutes in the first game then a great 80 minutes in the second game so we just need to continue to build momentum and put the draw past us.
"Weve recharged the batteries [during the international break] and were in for a big two weeks, Newcastle then Adelaide on the road, they're crucial points."
Canberra will be without South African superstar Refiloe Jane who scored two goals against Perth as she's away on international duty.
It means American recruit Paige Nielsen is set for her first W-League game two years after the former Western Sydney winger arrived in the capital this week.
"I talked to some girls before the season started like Rachel Corsie and old players like Kendall Fletcher and they got me prepared for what Canberra United was about," Nielsen said.
"Especially Heather, when I spoke to her about it it just made me super excited. Theyre a special group here, every practice there has been so much energy.
"Three years ago coming to Australia it was my first real professional league coming out of the University of North Carolina and I've matured a lot since.
"I'm definitely more comfortable on the ball and Im a leader, especially in the Australian league with a lot of younger players it's important to have that leadership role and just make sure everyone is on the same page."
Matildas defender Ellie Carpenter and Chilean striker Maria Rojas squared off in two internationals this week and the Canberra duo are expected to play against Newcastle.
United skipper Rachel Corsie is touch and go as the Scotland captain won't return from Europe until Friday but Garriock backed the defender to take the field.
"Not having Fifi [Jane] this weekend its going to be hard, but Paige has really good technique and shell lead by example out there," Garriock said.
"She brings so much leadership and so much energy, her work ethic is unbelievable. I'm really excited to see her play this weekend and hold the fort for Canberra United.
"The rest will fit right back in, theyve been away for international duty but theyre here to play.
"Hopefully Corsie is not too jet lagged… it will be tough for her but in saying that shes a professional and thats what they do these days."
W-LEAGUE ROUND THREE
Saturday: Canberra United v Newcastle Jets at Newcastle Stadium, 7:30pm.
Eamonn Tiernan is a sports reporter with The Canberra Times