Sports
Matildas' World Cup seeding on the line in two-game Chile series
It may be billed as a friendly but there is plenty on the line for the Matildas in their upcoming two-game series against Chile including a beneficial draw for the 2019 Women's World Cup.
Australia must win both games against Chile if they're to consolidate a top-six ranking and avoid big-guns USA, France, England and Germany in the group stage by entering the World Cup as one of the top-seeded nations.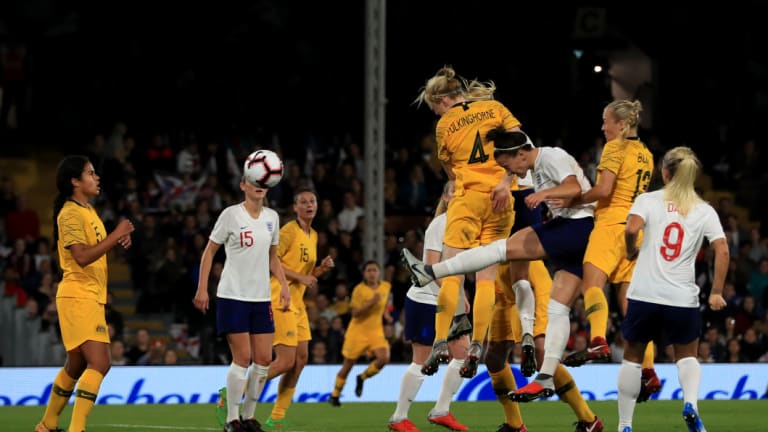 Much of that will depend on the results of Saturday's friendly match at Penrith Stadium, followed by Tuesday night's clash in Newcastle which could influence Australia's performance at the World Cup in France next June, such is the close congestion of teams ranked around the Matildas.
The Matildas will automatically seal sixth spot on the world rankings with two wins over the less-fancied Chileans but defeat, coupled with other results could see the Matildas leapfrogged by Sweden, the Netherlands and possibly Japan.
Advertisement
This current international window is the final round of all friendly and competitive games before the world rankings are released next month, likely just a day before the draw for the World Cup takes place on December 8.
Over the next week, Sweden (ranked ninth) will play England (third) in a friendly in Rotherham this weekend where an upset for the Scandinavians will earn them considerable points on the rankings chart. Meanwhile, the Netherlands (10th) play Switzerland (18th) for the final European place at the World Cup and, if the Dutch qualify for the France tournament, they will likely slide up the rankings chart.
Japan (seventh) host Norway (13th) in a friendly on Sunday and while a win for Nadeshiko won't earn them points due to Norway's ranking, it could be enough to see them leapfrog Australia into the top six should Matildas lose points by struggling against Chile.
While the Matildas will be focused on ensuring they don't slip up against the South Americans on home soil, their fans will be glancing at other results during a week that will heavily determine the make-up of the draw for the 2019 World Cup. Under the regulations, the hosts and five highest ranked teams will make-up Pot 1 for the draw. As France are ranked fourth and unlikely to slide any further down, it means the sixth-ranked nation – currently Australia – will also be included.
"I haven't thought about the draw too much but obviously if we perform well in these two games then we give ourselves an opportunity to be seeded for that draw which will be a massive plus for us," Australia's co-captain Clare Polkinghorne said. "In saying that, in a World Cup, you're going to come up against tough teams no matter who you play."
While Chile are a rising nation in women's football, they are considered South Americas fourth best team and are ranked 39th overall. They were chosen for this friendly series with the World Cup in mind, given the Matildas have little experience in playing Latin American opponents – aside from Brazil whom they face in the annual tournament of nations – and will likely draw an opponent from North or Central America in their World Cup group.
"We don't play them often but they're the type of teams we have to test ourselves against. We play against a lot of Asian teams and recently we went to Europe so it's good to get a feel of how different teams from different areas play," Polkinghorne said.
The Matildas first game against Chile is at 3.30pm on Saturday at Penrith Stadium before the sides face off again at 8pm Tuesday at McDonald Jones Stadium in Newcastle.
Dominic Bossi is a football reporter with The Sydney Morning Herald.