Sports
Tackle-free rugby league programs offered to boost participation
Kids and adults now have the chance to enjoy the full rugby league experience – minus the tackles.
In a bid to boost participation figures and to allay concerns over potential injuries, the New South Wales Rugby League (NSWRL) has started a new non-contact competition. The game, titled Blues Tag, is aimed at boys and girls aged between 11 and 17 and is scheduled to avoid clashes with traditional full-tackle fixtures.
It is being offered in addition to Oztag, a game in which players wear shorts with a velcro patch on each side to hold a strip of cloth known as a tag. The object of the game is to score a try, while defenders make tackles by removing the tags.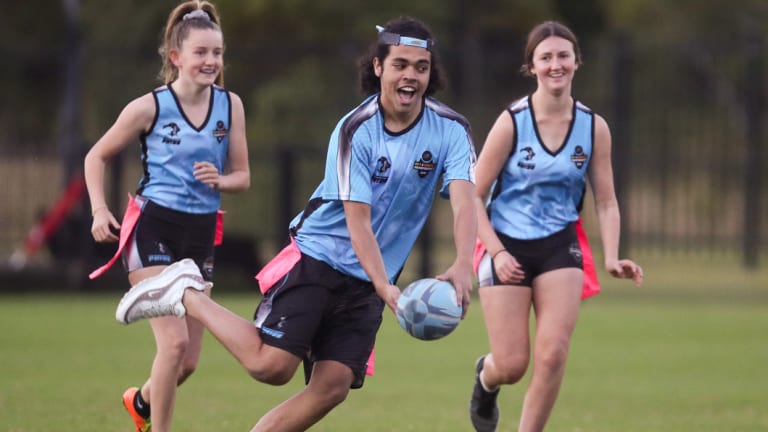 Unlike Oztag, Blues Tag is played on a full field for most age groups and with 11 players rather than eight. The new version has no restrictions on when you can kick and tries are converted, replicating almost all the rules of the National Rugby League.
Advertisement
"Its like rugby league without the contact," said NSWRL head of football Barrie-Jon Mather.
"We are pushing Blues Tag to remove contact and make the game accessible to even more people via integration into existing club structures.
"It is a fun and safe way for children to try rugby league and will ease any concerns parents may have about weight and age."
A pilot over-35 men's program in Cronulla was well received, prompting the establishment of an open-age group competition. An exhibition even at Norford Park, Sefton, has been organised on December 9 for under-15 girls representing the 10 junior rugby league districts across Sydney.
For the past two years, the NSWRL has also been pushing Mates, a full-tackle game that doesnt require a long-term commitment.
"Weve put a program on where if you fancy a game, you can come down and join a team," Mather said.
"If you want to come every week, thats great. If you want to bring a mate or the whole team, thats sweet but youre not committed for the whole season, you can dip in and out when you like."