Sports
The Winx effect: The Valley lights up for champ
Moonee Valley was bathed in glorious light, shining like some enormous green-tinged spaceship that had landed in the suburban dark of a sleepy Melbourne.
But the roads around were busy, absurdly so for 5.30am: cars were making their way to the parking infield, horse trucks to the grandstand area near the stalls, and the TV crews and their own shining lights had already established their spots hours before.
The crowd spilled in, clutching hot cups of tea and coffee, grabbing the sausage rolls and sandwiches on offer, ready to see, probably for the last time, the queen of the turf strut her stuff at the Breakfast with the Best she has turned into a one-horse show for the past three years.
The Valley will be jam-packed on Saturday, so for those who don't have a ticket for the Cox Plate, this may well be the last time that they had the opportunity to see Winx on the turf she has made her own.
They came from interstate, with media and race fans alike arriving from Sydney, Brisbane and Adelaide, while there were those from further afield too, overseas media and visitors keen to see the champion at her home away from home.
Advertisement
At 6.30am, with dawn having broken and the inky sky which had first turned grey now blue, Winx strode on to the track.
Appropriately she carried the number one saddlecloth and her regular rider, Hugh Bowman, was wearing the royal blue silks with the capital M insignia he dons on race day.
She sauntered up past the stands, to the Cox Plate starting position, before gradually building into her work: it was, as her trainer Chris Waller explained later, a deliberate ploy.
Just as you do with a racecar before a big race, you make sure everything is in order.

Chris Waller on Winx
Waller is a softly spoken man whose mild manner hides an intensity of purpose and meticulous sense of detail, qualities which have taken him to the top of his professional tree.
His explanation of her work on Tuesday morning, just four days out from her date with history, illustrates perfectly the way he leaves little to chance.
''This morning we just trotted her back to where the Cox Plate start will be. From the 2040-metre mark she just trotted up the straight just to get familiar, for her to get comfortable, for Hugh to get comfortable on her. She just broke into a steady canter from the winning post and then just gradually picked up the momentum.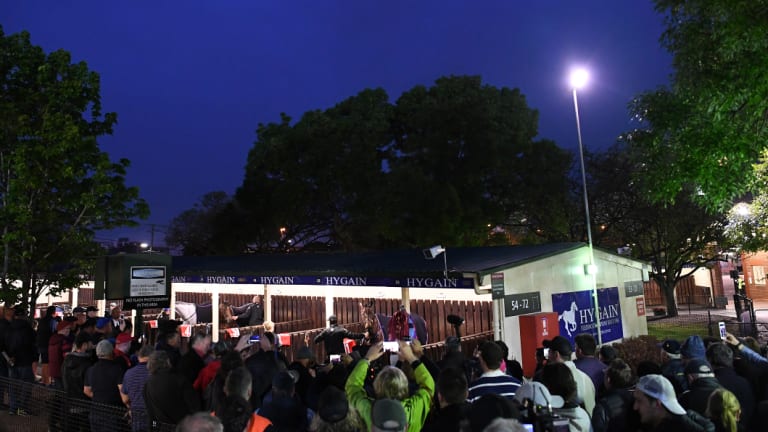 ''From the 1200-metre mark she was running at what we call three-quarter pace, then just gradually building into the 400-metre mark at a stronger tempo.
''Hugh just let her work around the bend, use herself properly, make sure everything was in order and everything was moving right, just as you do with a racecar before a big race, you make sure everything is in order.''
Horses are not machines, although Winx is the closest we have had, certainly since the great Black Caviar retired, and Waller's mechanical simile continued.
''The accelerator is there, the brakes are working this morning, there's a bit of smoke coming out of Hughie, but everything is in order and she breezed up nicely, strong through the line.
''What people don't understand is it takes a thoroughbred a good thousand metres to actually pull up.
''It's like a train, she gets that much momentum up, a lot of the work is done past the post. Hughie said she was perfect. She settled straight back into a walk afterwards, no signs of any stress or anything like that, just took her time back to the enclosure
''Hughie just gave the customary smile that he does and that's good enough for me,'' said Waller, with a trace of a smile on his own face.
There is an enormous strain preparing this mare for her date with destiny. She is, as he said when asked, one of the greatest of all time although he would not put her up on a pedestal above the other horses from history.
''Every race with Winx is so important, she has gone beyond just a racing horse, a sporting name, she is now a general public name, and people are appreciating her in their homes and in everyday life.
''She will be one of the greatest of all time now, regardless of Saturday's result. It's so hard to compare eras, and there have been so many great races in the world and Australia in particular.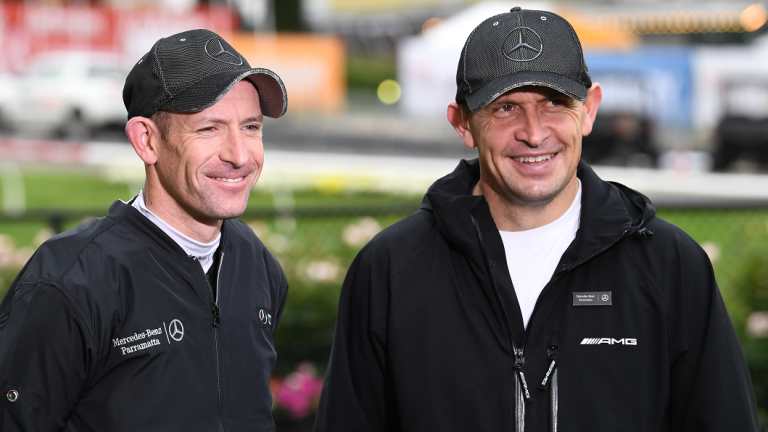 ''How can you compare your Phar Laps, your Black Caviar, who was never beaten, and many great horses through the eras. But at this time she is certainly dominant over this distance and the races she has been running in.''
The responsibility of handling a champion of this quality is immense, but so is the reflected glory. Not that Waller would give that impression. In modest fashion, he always redirects credit to the mare herself.
''I think Winx would make anybody a good trainer, it certainly puts us up on a pedestal to make us look pretty good but I think it should be thrown back to Winx, she's a superior athlete. She's probably got a good 10 per cent on the majority of her rivals.
''It's us just putting the brakes on, making sure she is not overdoing things, making sure we are carefully managing her. If you left it up to Winx she might run every week.''
Waller acknowledges that Godolphin's challenger Benbatl is a very good benchmark, one that will present a proper challenge.
But, as she prepares to do what no other horse has done, he is confident that both she and he have got everything lined up for a repeat performance.
''Realistically only two things can beat her. That's bad luck or a champion.
''The next champion could be waiting there in the wings ready to pounce on her, but if you get a reasonable-sized field, not too big, not too many traffic problems, like in any sport you need the bounce of the ball to go your way to some degree.
''Fortunately her class gets her out of a lot of situations but you never take it for granted.''
Michael Lynch, The Age's expert on soccer, has had extensive experience of high level journalism in the UK and Australia. Michael has covered the Socceroos through Asia, Europe and South America in their past three World Cup campaigns. He has also reported on Grands Prix and top class motor sport from Asia and Europe. He has won several national media awards for both sports and industry journalism.