Sports
Political football: Humane Treatment of Refugees 1 – Hard-arse Mob 0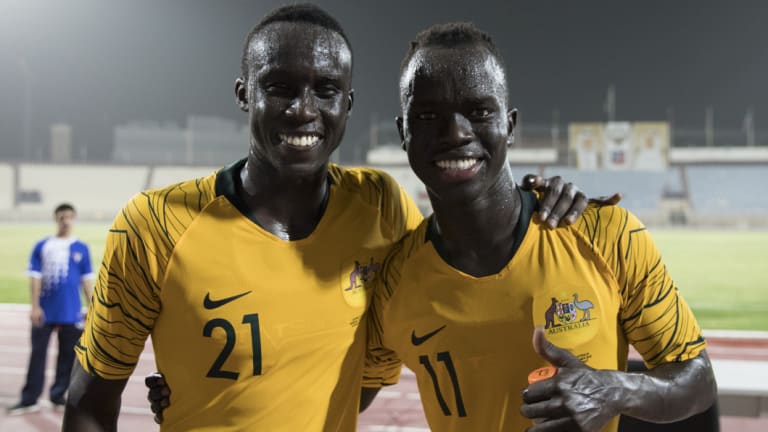 Sports story of the week? Thats an easy one. Thomas Deng and Awer Mabil started life in war-torn South Sudan and came to Australia as children with their refugee families, settling in the suburban Adelaide.
In this country, they so prospered that they made their debuts with the Socceroos together last Monday, coming on in the second half of the match against Kuwait.
Better still, when Mabil slotted the ball for his goal on debut, the first to embrace him in congratulations was his childhood friend and still best mate Deng – as somewhere in Adelaide, no doubt, the roars went up from their families as the tears flowed.
This is Australia at its best – humane treatment of refugees, who grow with the country and give back.
Advertisement
Manus and Nauru, where children from other war-torn nations are incarcerated and kept there even in the face of medical emergencies – all because that kind of politics plays well to the hard-arse mob – is Australia at its worst. Discuss.
We're all ears
The Cauliflower Club lunch last Friday, at the Hyatt on Sussex? It was superb, thanks for asking.
Before a packed house, highlights included a deeply moving welcome to country by Gary Ella and a wonderful "Toast to the Backs" by our new co-patron, Dame Marie Bashir, drawing on her life with the late, great Wallaby prop, Sir Nicholas Shehadie.
As they say in the classics, you coulda heard a pin drop. As to the panel discussion, whereby all of Wally Lewis, Ricky Stuart and Michael OConnor honoured their rugby-playing past, it was fascinating.
Among other things, Lewis declared that Mark Ella – who was in the audience – was the best footballer he played with or against in either code. And the crowd roared.
Ella and Lewis were, of course, in the 1977 Schoolboys team that was unbeaten on their tour of Great Britain.
Build it and they will come . . . not
In the words of Billy Birmingham: "I am sorry, I am just going to have to go with me on this one. On this subject I couldnt agree with me more."
I refer to the looming disaster of #StadiumSplurge – the idea of dropping two or three billion dollars to knock over three relatively modern stadiums and redo them on the back of precisely no public demand to do anything.
All kinds of wild predictions were made about the economic benefits, with just about nothing on who was going to have to pay the piper when the bill came.
And this week we have seen the results. The Eels and the Wanderers are balking at paying three times the freight to rent the new version of Parramatta Stadium.
And why wouldnt they? Sure, the new stadium may see a momentary spike in attendance for the first few matches. But how many think it will bring in three times the crowd? Exactly.
It is a nonsense, and a transparent one. This is not just your correspondent bleating in the corner. A lot of rusted on fans who have contacted me are deeply pissed off about the whole shambles and threatening to simply stop going.
These problems will be multiplied many times over when it comes to Homebush and the SFS and, if I may say the bleeding obvious, it is ludicrous for the government to push so hard to knock the SFS over with an election so close, when the proper course is to hold off and let the people decide what they want. You know, like a democracy?
Not worth the pain
Where will the Hayne Plane next come in for a dream landing? We know not. Understanding Haynes next move is never easy. But if I was CEO of a club being approached to sign him I . . . wouldnt. The most extravagantly talented player of his generation, and I would suggest for many generations, he can still be breath-taking when he gets interested, as he clearly was at the end of last season when it was coming time to negotiate contracts.
But, ultimately, you aint going to build a premiership-winning team on players who dont give their all, every time, whoever the opposition, whatever the score.
And I repeat, I can never get over that situation a couple of years ago when Hayne was with the Titans and, even though injured and in Sydney on the night Gold Coast were playing his old Eels team, he didnt show up for the game. I would have drawn a line through his name from that point on.
Hold your horses
A week later and still the nonsense goes on about what a stunning marketing ploy the whole move was to put what basically amounted to gambling ads on the side of the Opera House.
Great. If that was the case, theyll surely attempt to do the same thing next year, wont they? After all, if the arguments of Racing NSW, the government and the shock-jocks all stand up, if they truly believe that it was a great idea and responsible for more good publicity than bad in the scheme of things, they are surely beholden to do exactly the same thing again.
Do you think they will?
Exactly. Of course they wont. Which means that all the blather about what a great idea it was is nothing more than face-saving nonsense in the wake of the disaster.
As to the all the hype about The Everest drawing a "record crowd," please. It aint hard to get a record crowd for an event with a two-year history and, as twitter has noted, by that reckoning you could also call it "the second-lowest crowd on record".
Sure, 40,000 was apparently a good turn-out for racing, and good luck to them. And you may take it as good news that betting turnover was up, but I take it as bad news – it simply, incontrovertibly means that more punters did their dough.
Either way, the point remains: as a marketing exercise to make the public feel good about the very name "The Everest", the whole thing was a public relations Chernobyl. Deal with it.
Simply the Becks
Missus TFF interviewed David Beckham in London last week and, I must say, came away completely charmed and impressed with both his humility and candour.
As one who has interviewed more than her fair share of pompous dickheads, with controlling managers hovering, she was amazed at his openness.
A man with a daughter and three sons, only one of those is interested in soccer, but at least she can bend it like Beckham.
The man himself will be in Sydney from Monday supporting the Invictus Games.
What they said
Western Sydney Wanderers manager Markus Babbel on Usain Bolt being in the Mariners squad: "As a PR action ,it is sensational. The A-League receives much attention from him. But, honestly, I cannot take that seriously. I saw him play. For all that love, thats not enough in 100 years." I rather thought that myself but had something of a credibility problem in saying so. Anyhoo, shoot him, not me, and tell him hes an imbecile.
Thomas Deng after his fellow South Sudanese refugee Awer Mabil slotted a goal against Kuwait on their debut for the Socceroos: "We went to the same school. We played at the same club . . . we go way back. To come through and get our debut on the same day, its surreal. Its amazing."
Deng again: "Ill probably call my mum first and foremost and thank her for all the years that shes been taking me to training. Its finally paid off I guess. Im very happy."
Ralph Doubell who won Australias last male track Olympic gold 50 years ago: "I didn't start running till I was 17 in my final year of high school at Melbourne High . . . I went .. . to [Franz] Stampfl at Melbourne University and said I'd like to train with you. He looked at me through his monocle and said, I will tell you what you'll run, how often youll train and what distance youll run. We did OK with 800 [metres]."
Diego Maradona on Lionel Messi: "Its useless to try and make a leader out of someone who goes to the bathroom 20 times before a game. Before speaking to the coach and players he will be on the PlayStation. Then, on the field, he wants to be the leader."
Socceroo Robbie Kruse on the trolls: "Social media gives really unimportant people [a chance] to voice their opinions." I RESEMBLE that remark.
Samantha Stosur, once the 4th ranked player in womens tennis, on when she might retire: "I dont want to put a date on it because if you feel like you want to keep going [when you should retire] you look like a bit of a fool, and if you quit earlier then you look silly as well."
Breiden Fehoko explaining why, on his way into the stadium before playing American football for LSU against Georgia this week, he suddenly dropped everything and engaged in a full-blown haka with family and friends in an act which had America transfixed: "I saw [my dad] do it and in our culture, when somebody gifts you with the haka, you usually sit there, you receive it, you accept it. But I was about to go play a game. Im not about to just sit there and let him do it. About to go play Georgia, the No.2 team in the nation. Ive got to get fired up somehow. I just dropped my stuff and the switch just flipped for me."
Andrew Fifita maintaining Cronulla simply doesnt give him the respect he deserves: "I am still waiting for my Instagram post that I am playing for Tonga from the club".
Kurtley Beale, speaking on the virtues of the indigenous Wallaby jersey uses what I think might be a metaphorical oxymoron: "It would be nice to wear it at the World Cup one day. Maybe that's something we could talk about in the future. You have two playing strips in the World Cup. To be able to have the jersey in the back pocket just for a big game . . . I know that it can galvanise the group."
Team of the Week

The Diamonds The Australian netball team beat the Silver Ferns in the Constellation Cup.
Nathan Lyon The spinner took four wickets in six balls against Pakistan in Dubai, and still we blew it – on our way to a humiliating defeat.
Davis CupAfter all that brouhaha, appears as though the star players wont play in this new format.
Mick SchumacherThe son of seven-time Formula 1 world champion Michael, won the Formula 3 European title.
Sydney KingsNot the best start to the season with an opening defeat.
Marc Leishman The Australian golfer continuing his great year with victory at the CIMB Classic, whatever and wherever that is.
Peter FitzSimons is a Herald journalist, columnist and author, based in Sydney. He is also a former Wallabies player.