Sports
I'm on board the 'Wayne Train' if Ivan is off the bus, says Marshall
Benji Marshall hopes Ivan Cleary will remain on the bus – but if not, the Wests Tigers star is ready to board the Wayne Train.
Wayne Bennett and Michael Maguire have been mooted as potential replacements should Cleary return to Penrith to reunite with playmaker and son Nathan. As revealed by Fairfax Media, the Panthers offered Cleary a three-year contract from 2021 and there are suggestions that the deal has already been done. That will put pressure on the Tigers to part company with Cleary immediately, particularly if they can jag a big-name replacement.
Clearys silence has been deafening throughout the saga and most expect him to end up at the foot of the mountains before the pre-season commences.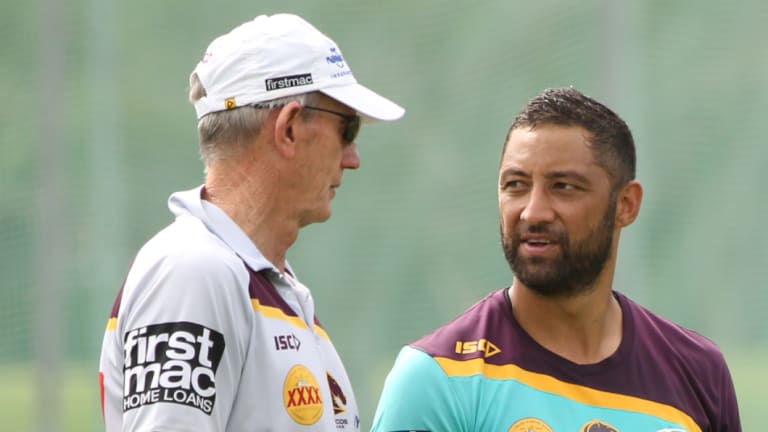 Marshall said he felt indebted to Cleary for handing him an NRL lifeline and expected him to honour the final two years of his Tigers contract.
"I still want Ivan to be the coach," Marshall said. "He gave me my dream of coming back to the Tigers, he gave me that opportunity. I feel like I owe Ivan in a way. In talking to him before the season ended, he was adamant he was seeing out his contract. I dont think he has any plans of going."
Advertisement
Asked about Cleary leaving after so soon after forging his on the bus mantra, Marshall said: "I feel like everyone is making a big deal about that. On the bus is not about Ivan, its about the club. Everyone is making it about Ivan. He might have said those words accidentally, but it gave the fans and the players something to be a part of.
"Whether Ivan is there or not, were still a bus. It might be the Wayne train."
Marshall has a strong bond with Bennett, who has been linked to the Tigers post. The seven-time premiership-winning mentor took a punt on Marshall at Brisbane, where the 33 year old proved he is still capable of competing at the top level. Bennett has a year to run on his Broncos deal but could seek the security of a longer-term option at the joint-venture outfit.
Marshall said Bennett would be an ideal candidate if Cleary was to depart.
"As long as he takes the coathanger out of his shirt," Marshall quipped. "He gave me a chance at Brisbane, took a punt on me. I really enjoyed being coached by Wayne. His ability to get the best out of players and motivate you to get the best out of you on game day is something Ive never seen before.
"If he wants to coach longer, theres probably an opportunity to coach us for longer. Having been coached by him, he hasnt lost it. Hes still got a bit in the tank he wants to see out."
Marshall also has a connection with Maguire, who is currently coaching the New Zealand national side. Maguire wanted to take Marshall on tour with the Kiwis, but a calf injury prevented the pivot from again donning the black jersey. The pair have been in regular contact in recent months as the Kiwis prepares to take on Bennetts England team.
"From talking to him, hes a really great guy," Marshall said at the launch of Mexican restaurant Zambreros Plate 4 Plate initiative to mark World Food Day.
"Hes genuine and honest. I caught up with him four or five times at the back end of the season. Who knows? If it does end up not being Ivan, I couldnt complain if it is Madge or Wayne from knowing both of them."
Marshall added with a chuckle: "Maybe the Kiwis versus England, whoever wins gets the job. Who knows, maybe Ill coach."
Cameron Ciraldo will oversee Penrith until a definitive call is made on Cleary. Panthers prop Reagan Campbell-Gillard, currently in camp with the Kangaroos, conceded he was unaware who his coach would be when he reports for preseason training.
"I dont even know whats going on," he said. "There are a few boys who want a few answers. Im hearing Ivan. Im hearing 'Ciro'. Who knows. Its out of our hands."
With Christian Nicolussi
Adrian Proszenko is the Chief Rugby League Reporter for the Sydney Morning Herald.