Sports
Cronulla officials to meet with Fifita over prop's dig at club
Cronulla officials plan to sit down with Andrew Fifita after the historic Australia-Tonga Test and discuss his claim that the club failed to recognise his representation of the Pacific nation.
Fifita took a dig at the Sharks for not acknowledging his involvement with the Tongans during speeches at the club's Monty Porter Medal presentation night.
"If I was in the Australian team the club would be proud I was in it," Fifita said.
He also wanted to know why the Sharks had not uploaded a photo of his Tongan selection on Instagram but had done so with the club's Australian players. Cronulla finally came to the party just after 4pm on Tuesday and posted the photo of Fifita in his Tongan jersey.
Fairfax Media understands Sharks officials contacted Fifita on Tuesday when they read his comments from Auckland and agreed to meet next week.
Advertisement
The barnstorming prop was issued an official warning for his appearance on an expletive-laden podcast in August, which came soon after a post-try spray directed towards the coach's box in a game against North Queensland.
Fifita said that ugly scene quickly blew over and he was simply answering in a challenge thrown down by assistant Jim Dymock.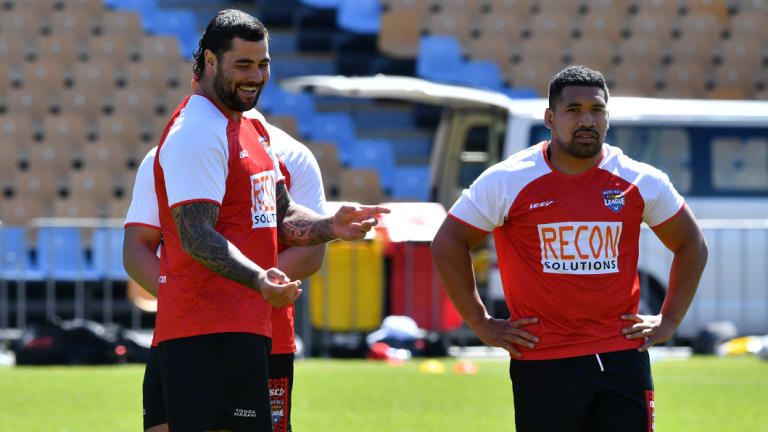 While he attempted to blame the media on Tuesday for "trying to twist my words" when it came to his Tongan snub at the awards night, he needn't have worried given there were some at the Sharks who actually agreed the club should have done more to acknowledge him.
Fifita remains the most puzzling and controversial player in the NRL who leaves Cronulla nervous every time he fronts the media.
But he also remains arguably the best front-rower in the game.
That is what Kangaroos flyer and Cronulla teammate Valentine Holmes thinks.
Fifita is also one of the most influential players in the game because if it was not for him and Jason Taumalolo, the Kangaroos versus Tonga match – the most-anticipated international game of the year – would not be taking place at a packed Mt Smart Stadium on Saturday.
Taumalolo knows Fifita has had his running battles with the media and laughed about it with Fairfax Media before the latest backlash.
"Every now and then he'll get on the wrong side of the media," Taumalolo said.
"But I know Andrew and he's a big-hearted guy, he always wears his heart on his sleeve.
"Obviously he's been through it all, he's played [State of] Origin, won a premiership, played for Australia. For him to share that experience with the younger boys coming through has been great. He's a real leader.
"There have been a few things in the media that have been controversial but deep down Andrew loves the responsibility the team gives him sand he wants to be a leader amongst the younger boys … having the younger boys around, he likes to be the older brother and show them the ropes.
"He's a huge reason why a lot of the boys come back to represent Tonga and he's trying to something bigger and better for the game."
Holmes, who will try to avoid Fifita when bringing the ball back to start sets on Saturday, said of his larger-than-life Sharks teammate: "He is pretty loud and vocal, he doesnt care what anyone thinks, he just comes out and plays footy.
"Thats why he was our best forward this year. He just ignored what happened in the middle of the year off the field and still played well for us.
"He was our main consistent forward when we lost Wade [Graham], Lewie [Luke Lewis] and Gal [Paul Gallen]. He and Matt Prior held it down for us.
"Those actual games [as captain] he played better. He didnt change too much. He spoke up a bit. He was probably one of our oldest players. He has a lot of experience in rep teams."
Christian covers rugby league for The Sydney Morning Herald.