Sports
To the outraged guardians of the Opera House: Welcome to our world
I quit responsible gambling when I was 18. Horses had been my game. I enjoyed the intellectual challenge of computing the variables of breeding, form, conditions, jockey, gear changes, opposition and gut feeling to forecast an outcome. It was stimulating, modestly budgeted and not immediately ruinous. Responsible.
Then I was taken to a race meeting by a committee member of one of the Sydney clubs who showed me a different way. The trick was to know which horse was going to win, and put thousands of dollars on it. Oh. Thats what he did. You could call it very responsible gambling, except it wasnt gambling. Whether its termed research, asymmetrical information, or insider trading, it cured me of the urge to gamble, responsibly or otherwise. When you see absolute proof that you are playing a mugs game, it takes the fun out of being one of the mugs.
Still, Ive never stopped enjoying the races and am still enough of a turf nerd to get all steamed up over why a bog-standard group 1 sprint, a glorified T.J. Smith Stakes, was bigger than the Melbourne Cup by virtue of flying a sign off a helicopter all day. Im such a nerd Ill even watch and get caught up in the damn thing.
Lots of people enjoy and participate in horse racing without gambling. Its a sport that depends on gambling, but its less and less alone in that regard. Singling out a horse race from all the other ways in which the Sydney Opera House, interior and exterior, has sold itself for advertising carries a whiff of snobbery and willed blindness. Its outre for a horse race to be advertised on the sails, but okay for the Qantas Wallabies – because a rugby Test is a national event? Come again? For years, the Wallabies have been a billboard for corporate sponsorship. Rugby, like every other major sport, long ago sold whatever claim it had (which was always pretty flimsy) to a transcendental national status. And the Opera House has been reliant on gambling since – hang on, wasnt it built with lottery money?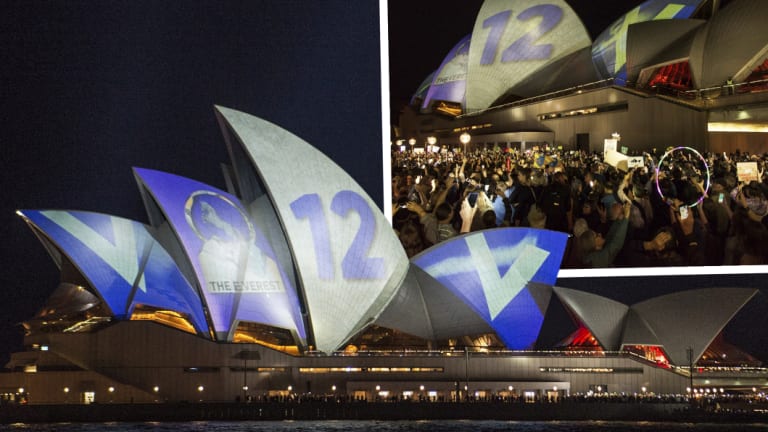 The exchange of quid for pro quo has been steadily eating our sports, at all levels, to the point where there is little soul behind the logo. To the outraged guardians of the Opera House, sports lovers might be saying: welcome to our world,
Advertisement
The conversation about who owns sports, who owns the space in which they are staged, who owns the airwaves that bring the spectacle to us, who owns the very time we spend watching it, is the most important conversation in this field of life and the one from which you and I are most excluded. Waleed Aly argued on these pages during the week that the negative reaction to the projection of the Everest barrier draw onto the Opera House was so strong because people were protesting the loss of genuine public space. I fully agree, but I look at it from a slightly more personal angle. I dont think people (on both sides of the argument) were so angry because of the abstract concept of community, but rather because they are continually, day after day, shut out of the most important conversations, and nowhere are they more shut out than in decisions over corporate sponsorship. The anger came from a glimpse of the truth: yet again, we are the mugs in this game.
If you think the Opera House sails are a sacred space, have you thought about your childrens club cricket shirts? At six years of age, my kids wore the name of a billion-dollar bank, which generously donated a few hundred dollars for fancy BBL-style cricket shirts. Yay for them. Somebody else decided this; members of the club were merely asked to genuflect in appreciation. In their winter sports, these children became billboards for another bank. They went to matches at grounds named after a betting company, an insurance company, and, believe it or not, another bank. They went in fun runs where they wore bibs and drank water from bottles emblazoned with the name of … a bank! When they wanted to buy the shirt of another national symbol, the Australian team, there was only one choice, which was the shirt with the logo of, you guessed it, a bank. Our national teams are billboards, and now, having bought their merchandise, so are we.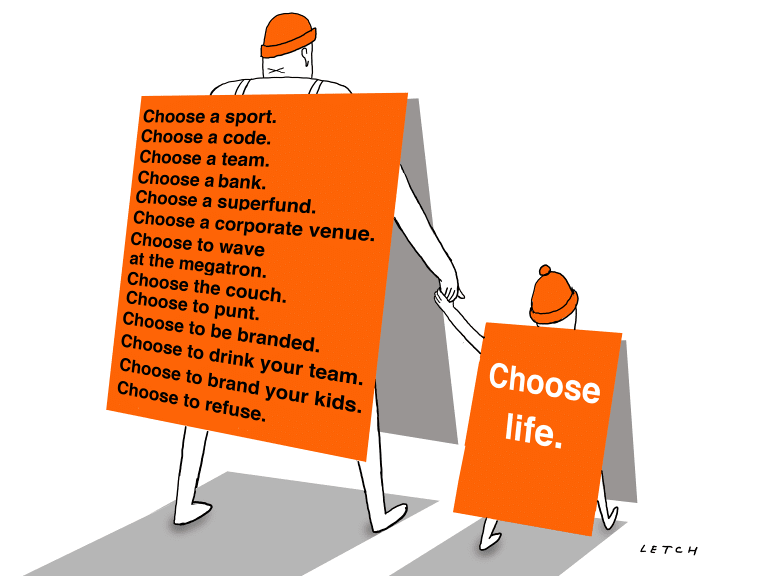 Its not only that, as Waleed wrote, public space is corporatised. Its that the contentious parts of the transaction are decided, just like the charitable parts, without our input. Club committees, from the local level up, are increasingly populated by people with corporate connections who can deliver sponsorship. They are the rainmakers for your local club. You are indoctrinated from the very grassroots that sporting fields, sporting facilities and sporting equipment are gifts made to you by corporations. Did you have any say in it? No, because you are conditioned to beggar status; your disposition is to be grateful to corporations for having thrown some crumbs your way.
On the other side of the transaction, when something in the relationship goes awry, you have even less say. When a footballer disgraces his or his clubs name, the corporate sponsor has force majeure: it is freed from all contractual obligation and can drop that player or club without a backwards glance. What corporations giveth, they taketh away. Their generosity carries no mutual obligation. If you want to run a test over this argument, ask yourself: How many sporting clubs, organisations, stadiums or individuals broke off their sponsorship with an Australian bank after the Hayne royal commission because association with that banks name gave the sport a bad reputation? That should answer the question of where power lies, and this weeks protest has been one of disempowerment.
When I went to that fateful day at the races all those years ago, I learnt that there was a closed circle from which I, an ordinary person, was excluded. You are shut out of a closed circle in all of your sports, whether professional or amateur. Within the circle, business is conducted on the fundamental principle that everything is for sale. You allow it because you are told you need corporate sponsorship to run your expensive competitions. You believe that this is the only way you can participate. Your only avenue of protest against it is to withdraw from participation completely.
The Opera Houses paid assignation with the Everest dramatised the closed circle from which people are excluded every day. A very important man ordered a very important public office to do his bidding. He was showing us that other people make the decisions, other people decide outcomes, and for those in the circle there is no gamble, its a done deal. All that is required from you mugs is to go along with it.
Until you wont.
Malcolm Knox is a sports columnist for The Sydney Morning Herald.