Sports
'Putin is very proud of me': Nurmagomedov tries to justify UFC chaos
Khabib Nurmagomedov defended his violent actions after beating Conor McGregor at UFC 229, stating that Russian president Vladimir Putin was "proud" of him despite the way he instigated an ugly melee at T-Mobile Arena.
Nurmagomedov made a brief media statement following his fourth-round submission victory over McGregor and the wild fracas that followed, yet was largely unrepentant.
"First of all I want to say sorry to Nevada Athletic Commission," Nurmagomedov, now 27-0 and still the UFC lightweight champion, told reporters. "This is not my best side.
"But (McGregor) talked about my religion, he talks about my father. Why people talk about (how) I (jumped) on the cage? He came to Brooklyn and almost killed a couple of people."
Those remarks referred to the way Nurmagomedov leaped out of the octagon to brawl with members of McGregor's team moments after the Irishman had tapped out to a rear naked choke.
Advertisement
It also referenced the infamous attack launched by McGregor on a bus carrying Nurmagomedov and members of his team in Brooklyn back in April.
The commission withheld Nurmagomedov's $US2 million ($2.8 million) fight cheque on Saturday night, pending an investigation.
McGregor also launched a series of vitriolic verbal attacks on the Russian during the build-up to the fight, making incendiary comments about his family, his Muslim faith and the Dagestan region of his homeland.
"They call him two-weight world champion, but today he tapped," Nurmagomedov added. "This is (a) respect sport, this is not trash-talking sport.
"I want to change this game. I don't want people talk (expletive) about opponents. About fathers, about religion. You can't talk about religion and nation. For me this is very important."
Nurmagomedov's coach Javier Mendez later reinforced those feelings.
"He (McGregor) needed to leave religion, family and politics out of conversations," Mendez said.
"Having (McGregor teammate) Dillon (Danis) talk crap to him didn't help the situation."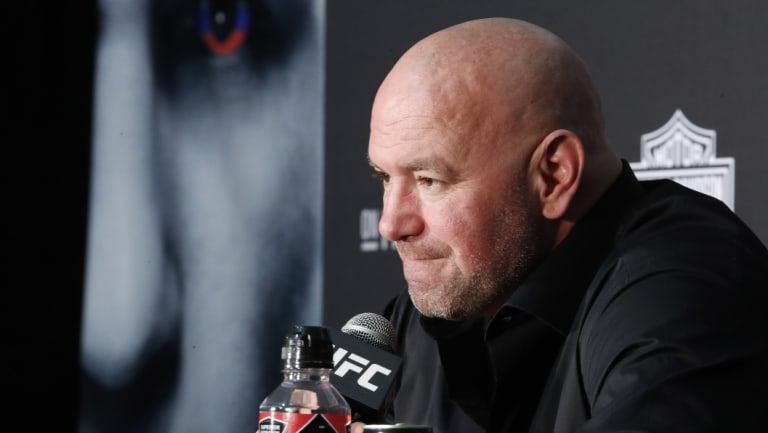 During this year's FIFA World Cup, McGregor was photographed as a guest of Russian political leader Putin, in an executive suite.
Nurmagomedov was also at the tournament, but had to make do with a regular seat in the stands.
"I am very proud," Nurmedomedov said. "(McGregor) take pictures with Putin. (Putin) just called me and told me he is very proud of me."
USA Today