Europe
Man sentenced to life for killing near London's Finsbury Park Mosque
Darren Osborne plowed his vehicle into a crowded sidewalk outside Finsbury Park Mosque in north London on June 19, killing Makram Ali, 51, and leaving 12 people injured.Osborne, 48, was convicted by a court Thursday of murder and attempted murder.Justice Bobbie Cheema-Grubb said Osborne had been "rapidly radicalized," adding that his mindset "became one of malevolent hatred," she said during the sentencing, according to the Judicial Press Office."This was a terrorist attack," she said. "You intended to kill."Speaking outside the court, the murdered man's eldest daughter Ruzina Akhtar said the family welcomed the verdict while describing the torment they had been through since her father's death."Our father, like the victims of most terrorism, was entirely innocent, which makes his death in this violent way all the more hurtful and we cannot imagine the trauma he felt in the last few minutes," she said in a statement."But we will choose to remember our father with happier thoughts. He will never be forgotten, he will always stay in our hearts, his laughter will echo the walls of our home, his smile will be reflected in our eyes, his memories will be alive in our conversations."
'Motivated by anger'
Osborne appeared to have been motivated by anger over Islamist terror attacks in London and Manchester, England, in 2017 and a child grooming scandal in Rochdale that involved men of Asian origin, Woolwich Crown Court in southeast London was told.He rented a van in Wales and drove it to London on June 18 planning to attack people attending a march, the Crown Prosecution Service (CPS) said in a statement after the verdict.When that did not prove possible, he drove around the city looking for a mosque, it said.Just after midnight, he saw a group of men helping Ali, who had collapsed at an intersection. More people were around than usual because it was Ramadan, and many Muslims were on their way to or from prayers, the CPS said.According to the prosecution, Osborne deliberately drove his vehicle into the group near Finsbury Park Mosque, fatally injuring Ali and trying to kill as many others as he could. Nine others were taken to the hospital with injuries suffered in the attack.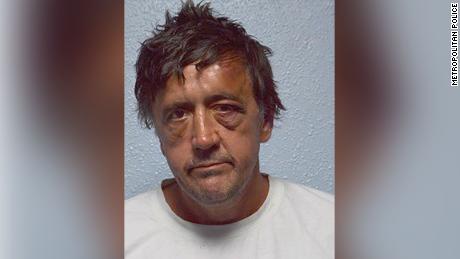 A witness told the court that when Osborne was stopped from fleeing by members of the public, he said: "I've done my job, you can kill me now."In his defense, Osborne claimed that a man named "Dave" had been driving the van and was responsible for the attack. But he was unable to explain why closed-circuit TV showed only one man leaving the vehicle, the prosecution said.The CPS said it had prosecuted the case as a terrorist offense because Osborne's actions were intended to advance a political purpose, expressed in a handwritten note found in the van he used and in comments he made to police officers at the scene.
CNN's Laura Smith-Spark contributed to this report.
Original Article
[contf] [contfnew]
[contfnewc] [contfnewc]