World
'It's Very Expensive:' Most Teachers Say Immigration Has Harmful or Mixed Impact
byJohn Binder17 Dec 2017Washington, D.C.0
Most public school teachers say mass immigration has a "mixed" or a "negative" impact on American schoolkids.
The Education Week Research Center survey reveals that 52 percent of public schoolteachers share mixed feelings about admitting more than one million legal immigrants a year into the U.S. — not including those who enter the country illegally every year — or said that immigration is generally "bad" for the education system. Only 38 percent said the impact was good. Ten percent declined to say.
Concerning Deferred Action for Childhood Arrivals (DACA) illegals:
"If I'm standing in line to get a cup of coffee, I don't want people butting in line," said Tim Erickson, a special education teacher at Detroit Lakes High School in northwestern Minnesota and a political independent. "We have rules for a reason, and people should follow them."
Teachers who voted for President Trump in the 2016 presidential election are far more likely to agree that immigration comes with its negative impact on public schools, with 66 percent saying they have mixed views on the issue, and 20 percent saying immigration is a bad thing for schools: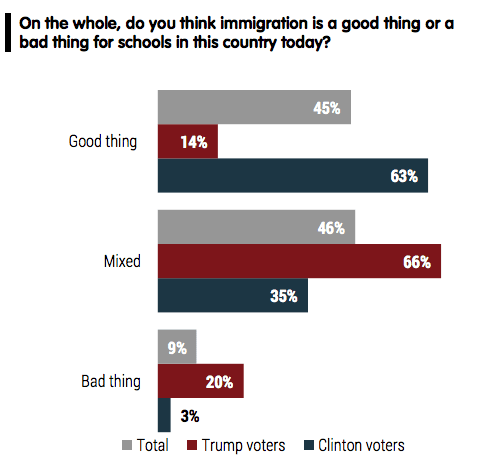 Only 27 percent of the teachers described themselves as conservative or very conservative.
Kerry Townsend, a "media specialist" in Missouri public schools, told Education Week that she had mixed feelings on immigration, citing the cost to taxpayers:
Townsend called the impact of immigration on school systems like hers, "very complicated. It's good to get different points of view, different perspectives. It's good for students who have grown up in Missouri to see that there's more beyond Missouri," she said. "But I think it's very expensive." Schools don't always get the resources they need, Townsend said.
Educators struggle with impact of immigration, a survey shows. https://t.co/910TqbILSlpic.twitter.com/ceWLlbR4Il

— Education Week (@educationweek) December 15, 2017
As Breitbart News reported, a recent study by Anne E. Casey Foundation discovered the incredibly poor reading and math proficiency of 4th and 8th graders born to immigrant families.
For children in the fourth grade living in immigrant families, only eight percent scored at or above the proficiency level in reading. In math, the proficiency rate is even worse, with only five percent of eighth-graders in immigrant households scoring at or above the proficiency level.
Compare these statistics to that of children who are born in the U.S. to non-foreign families, where 38 percent of fourth-graders scored at or above the reading proficiency level, and 34 percent of eighth graders scored at or above the math proficiency.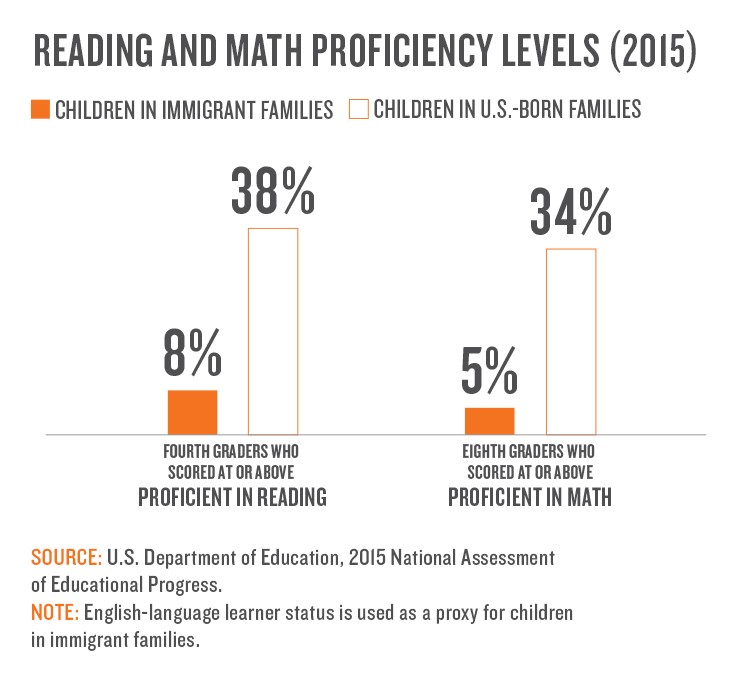 Additionally, only 70 percent of children in immigrant families live with a parent or guardian who has a high school diploma, while 91 percent of children in U.S.-born families live with a householder who has a high school diploma.
The study also found that 21 percent of parents who have children in the public school system are illegal immigrants, and six percent of children in the school system are illegal immigrants themselves. Only 48 percent of immigrant parents with children in the school system are U.S. citizens.
John Binder is a reporter for Breitbart News. Follow him on Twitter at @JxhnBinder.
[contf] [contfnew]
[contfnewc] [contfnewc]
The post 'It's Very Expensive:' Most Teachers Say Immigration Has Harmful or Mixed Impact appeared first on News Wire Now.