Tokyo: Regular phone calls from John Eales helped Jack Dempsey through his "darkest time" on the sideline, the Wallabies back-rower revealed.
On the cusp of a Test return almost a year since a nasty hamstring tear turned his world upside down, the abrasive NSW No.6 said a voicemail from the man known as "Nobody" was as unexpected as it was welcome.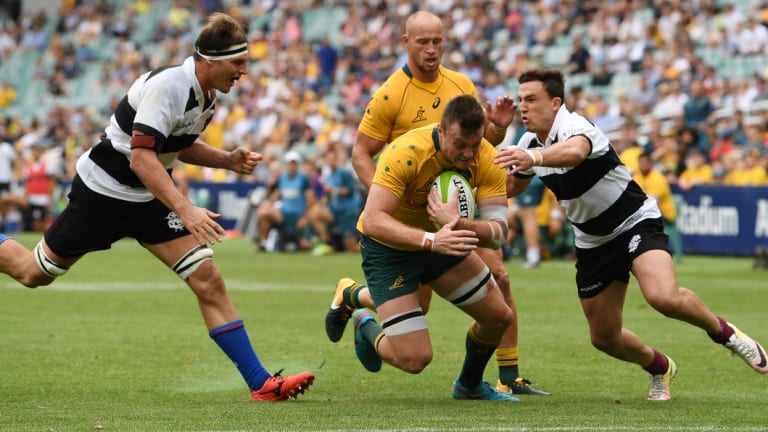 "[He] found my number somehow and got in contact with me and shared some words of wisdom and gave me confidence in terms of working hard throughout this rehab to get back," Dempsey said.
"He talked about his own experiences with injuries and just the mindset about how 'you might feel forgotten, but were all hoping that you get back and you get strong'."
Eales said he reached out because he'd been watching Dempsey's rise through the ranks in his break-out season.
Advertisement
"I had been so impressed with how he had progressed with his play and disappointed for him to be injured just as he had broken through," the Wallabies great told Fairfax Media. "I'm thrilled to see him back, he's an impressive young man."
Nathan Grey was also on hand to help, and Dempsey has been open about using a sports psychologist to help him throught the peaks and troughs of the comeback trail. But one call from Eales, in particular, came at a crucial period almost six months into his rehabilitation. The Waratahs were eyeing a round-nine return for their young breakaway, but nerve damage forced him to shelve those plans. Dempsey, who prides himself on his mental strength, described it as his "darkest time" and said he owed a lot to the former Wallabies captain for his support.
"I think it just shows his leadership as well. Hes one of the greatest players and probably the greatest captain weve ever seen," he said.
"When I read the voice mail that it was him calling I thought it was a bit of a joke, so I called him back and it was him. Obviously I was in a pretty dark space then, he helped me get through that. Its a credit to him, staying in touch with the players and showing full confidence in the Wallabies. I owe a lot to him."
That was April, which turned out to be only the halfway point in Dempsey's long road back to rugby. He finally played 30 minutes of competitive football for the Sydney Rays in the National Rugby Championship in September.
Barely a month later and he's in Tokyo with the Wallabies, poised for a long-awaited comeback against the All Blacks in Yokohama. It was this same Test a year ago in which the 24-year-old claimed man-of-the-match honours in Australia's 23-18 win, capping an outstanding debut season in the gold jersey.
His rapid return has been the subject of intense internal discussion, with the Wallabies, Waratahs and Dempsey himself concluding that, after such a gruelling and isolating rehabilitation, his mental well-being and physical needs are best served by being in the camp environment and playing games.
It is also a win for Michael Cheika, given the season this has been, to welcome back a player who has not lost in the Australian jersey. Dempsey has been involved in five Test wins and two draws since his debut last June.
Instincts sharpened by a year on the outside looking in, Dempsey is clear and focused.
"If there is one thing that I learnt last year it's that being part of the squad is not good enough," he said.
"When I had all those months and weeks to think back about where I left off you want to make sure that they are positive and that you are winning Test matches, winning games.
"At the end of the day my only interest is winning games and that's something that when I came back in here I said to 'Cheik' that's all I really want to do. I want to play rugby and do everything I can do to help the boys – whether I am playing or not – to get the victory this Saturday."
Georgina Robinson is a Sports Reporter for The Sydney Morning Herald